Egypt accuses Ethiopia of delaying resumption of renaissance dam discussions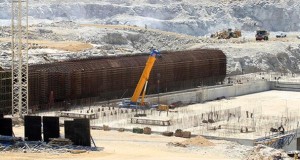 Egypt's Foreign Minister, Nabil Fahmy, has accused Ethiopian authorities of stalling the resolution of the renaissance dam dispute after they have failed to respond to several requests from Egypt to restart the talks.
However, he has insisted that the Egyptian government would continue to advocate for its interests and rights to the shared water – despite some criticisms from Sudan.
Reports indicate that Mr. Fahmy met with his Ethiopian counterpart, Ato Alemayehu Tegenu, briefly in Brussels last month. But they are yet to build on their discussions.
The Grand Ethiopian Renaissance Dam (GERD) is set to be the largest hydro-electrical plant on the continent upon its completion in 2017. The 6,000 MW plant, which is expected to cost about $4.6 billion, will reportedly have a reservoir capacity of nearly 63 billion cubic meters.
The Egyptian government have since raised alarm that the dam will reduce the freshwater supply from the Blue Nile to the arid country. However, Ethiopian authorities insist otherwise.
An international panel of experts consulted to study the dam last year concluded that although the plant will not have a significant impact on the environment, more studies need to be undertaken.
But after three rounds of meetings between the water resources ministers of Ethiopia, Egypt and Sudan, the officials are yet to decide on how to implement the recommendations of the panel of experts.
Last month, the Ethiopian Prime Minister, Hailemariam Desalegn, invited Egypt for another round of tripartite discussions.
He went on to confirm that the dam is already over 30% complete and is set to begin generating power by next year.
Recently, Egypt's presidential candidate, Abdel-Fattah al-Sisi also disclosed that he favours dialogue with Ethiopia. Nonetheless, he underscored the fact that "The dam issue is one of life or death for Egypt.
"While I understand others' interests, I expect them to understand ours" he said.
Photo/Tesfa News