Terrorists assassinate another Somali MP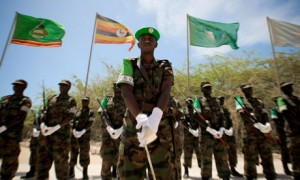 Unknown gunmen linked to the Islamic militant group, al Shabab, have shot and killed a member of the federal parliament on Monday at Madina district.
Abdiaziz Isaq Mursal was shot several times as he emerged from his home in Dherkenlay and died on the spot, according to eye witnesses.
This attack comes less than 24 hours after a car bomb planted by the terrorists killed one Somali legislator and severely injured another.
Reports indicate that the shooters bolted from the scene before security officials arrived. However, a spokesman for the rebels, Abdiaziz Abu Musab, has claimed responsibility for the assault explaining that "This proves that they cannot and will never do anything about security."
He further revealed that the group has more "serious" attacks "on the way."
In the past few years, al Shabab's attacks have become increasingly daring, targeting high profile targets. Some observers have reasoned that this is directly linked to the loss of large sections of the group's sphere of control to the joint Somali Army and African Union Mission in Somalia (AMISOM).
The formation of the Somali Federal Parliament in 2012 marked a crucial milestone in the war-torn nation's journey to building modern democratic structures.
Some pundits have noted that the assassination of parliamentary figures is the group's way of stifling the nation's progress towards democracy.
However, the speaker of the National Assembly, Mohamed Osman Jawari, has noted that the "attacks on MPs and government officials will not set back our progress."
"We won't be discouraged by the terror attacks as such all federal lawmakers are united to keep their work tirelessly and to serve the Somali people," he added.
Similarly, Prime Minister Abdiweli Sheikh Abdiweli, has decried the attacks. He further noted that "The use of terror will not derail us from the progress made in securing Somalia, it only serves to unite and strengthen our resolve to defeat all forms of terrorism and violence."
Representatives of the United Nations and African Union Mission in Somalia have also condemned the attack and directed Somali authorities to open an investigation into it.
Photo/Stuart Price/AFP/Getty Images.