Muktar Kedir appointed to head Oromia region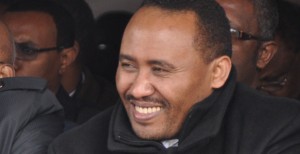 Regional councillors have elected Muktar Kedir, chairman of the Oromo People's Democratic Organization (OPDO), as the sixth leader of the largest regional state in the republic.
On Thursday, March 27th, Kedir was appointed at the 10th plenary session of the Council of the Oromia Regional State as President of the region during a two day meeting at the Adama Aba Gada Hall, 100 kilometers south of Addis Ababa.
Muktar, who replaced Alemayehu Atomsa as chairman of the OPDO a few days before his passing in February, is not new to the regional state, which he has been serving since the 90s.
Kedir was the vice president of Oromia between 2008 and 2010, before he was appointed as co-deputy prime minister of Ethiopia between 2012 and 2014.
According to the report by Addis Standard, Muktar told members of the council in his acceptance speech that tackling the lack of good governance, notorious within the region, will be his priority.
Meanwhile, the council has also voted Aster Mamo, the former minister of youths and sports, as vice president of the region.
Lemma Megersa, who has served as head of security in the region, was likewise appointed as speaker of the regional council. Currently, Megersa is head of the Trade and Market Development Bureau of Oromia.
In its two day deliberation, the council also approved the appointment of 139 district level lawyers. Thirteen of them are reportedly women.
The OPDO is an important part of the ruling Ethiopian People's Revolutionary Democratic Front (EPRDF) alliance. Currently, the ethnic-based party is reported to hold a majority of the seats in the regional assembly.
Photo by Addis Fortune: Muktar Kedir.