Gunmen attack Church in Mombasa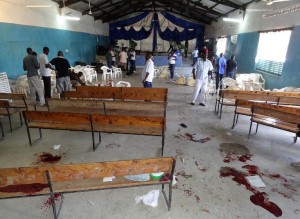 Unknown gunmen stormed a church in Mombasa on Sunday and opened fire on the worshipers, killing about 6 people and injuring over 15 others.
Local reports indicate that the 3 terrorists, armed with AK-47 rifles, attacked the Joy Repentance and Holiness Church in Likoni, Mombasa County, at 10 am, while the building was filled with worshipers.
The chief of the Likoni district police, Robert Mureithi, has disclosed to reporters that the gunmen escaped before security forces arrived at the scene.
Although the identities of the attackers are still in question, many pundits have linked the incident with al Shabab.
Mureithi, however, noted that investigations have been open into the incident.
According to eyewitnesses, the hooded attackers muttered some words in a foreign language before opening fire.
al Shabab have vowed to conduct punitive attacks on nations who have donated forces to the African Union Mission in Somalia (AMISOM).
Recently, Kenyan authorities apprehended two terrorists with a bomb-strapped vehicle as they entered Mombasa. The two men of Somali origin have been arraigned before a court and leveled with over 7 charges, including intent to commit felony.
In the aftermath of the attack yesterday, many commentators have raised questions about the effectiveness of Kenya's security forces – noting that the daring raid by the gunmen came less than a day after Interior Minister, Ole Lenku, revealed that security had been tightened in the coastal city.
Kenyan officials have voiced concerns over links between sections of the country's Muslim community in Mombasa and terrorist groups such as al Shabab in neighboring Somalia.
These fears have been exacerbated by the growing rift between security forces and sections of the Muslim community in the city – following a controversial raid on a famous mosque in the coast recently.
Photo by AFP: The scene of the attack.