South Sudan: Rebels condemn Regional Leaders' decision to deploy Forces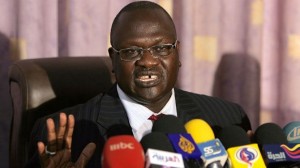 Rebels in South Sudan have criticized the decision of the Intergovernmental Authority for Development (IGAD) to send troops to the deeply desolated nation.
Last week, east African leaders met in Addis Ababa and voted to deploy a regional stabilisation and protection force to South Sudan to guard the nation's much valued oilfields and other vital facilities.
Sources indicate that Ethiopia, Kenya, Rwanda and Burundi have agreed to contribute forces for the mission.
But the leader of the rebels, former deputy president of South Sudan, Riek Machar, has described the move as "unfortunate."
He told Sudan Tribune on Friday that "We reject it and condemn it in the strongest terms. It is an attempt to regionalize the internal conflict."
The head of the rebel delegation in Addis Ababa for peace talks, Taban Deng, has also expressed his disapproval of the regional authority's decision, according to a report by Reuters.
He noted that the decision is "ill advised", adding that "The U.N. is an overarching and an inclusive body. Why should another force be created and deployed, if it has the same intentions as the UNMISS peacekeeping force?"
Mr. Deng went on to censure IGAD for failing short of ordering the immediate withdrawal of Ugandan forces from South Sudan.
However, reports indicate that regional leaders have called for the withdrawal of all "armed groups and allied forces invited by either side."
Meanwhile, General Katumba Wamala, the chief of Defense Forces of Uganda, revealed on Friday that Uganda People's Defense Force (UPDF) will leave South Sudan once IGAD forces arrive in April.
He reasoned that "If we leave without the boots on the ground, it will create a vacuum, that vacuum is very unwelcome."
President Yoweri Musuveni deployed his forces to South Sudan late last year after fighting erupted between rival factions of the military – before eventually degenerating into an ethnic war.
President Musuveni has admitted that the UPDF have been actively involved in battles against rebels alongside South Sudanese forces – raising questions about their mandate in the deeply divided nation.
The United Nations and African Union have both expressed their commitment to investigate into reports of human rights abuses and take the appropriate disciplinary actions.
The government of South Sudan has, however, welcomed news of the deployment of regional peace keeping forces.
Nhial Deng Nhial, the leader of the government's delegation attending the peace talks in Ethiopia, has hailed the news, adding that the government is committed to promoting understanding through dialogue.
When the negotiations between the warring factions resumes next week, many issues are expected to be tabled. For many observers, one of the most important of these is the fate of the four jailed politicians in Juba, and their seven colleagues released to the Kenyan government, who have been summoned to appear in court on Monday, March 17th.
Photo of Riek Machar.