Rebels Confirm Control of South Sudanese State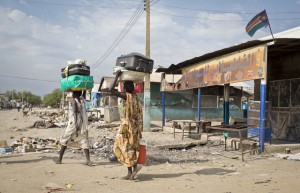 Rebels in South Sudan say they have retaken Malakal, the capital of oil-rich Upper Nile state, after several days of intense fighting with the military.
The rebels, loyal to former South Sudanese Vice President Riek Machar, reportedly recaptured the town on Tuesday, a spokesman for Machar revealed to delegates at talks in Addis Ababa geared towards ending violence in the world's youngest nation.
"I have just received confirmation from our field commander that the SPLM/SPLA forces under the direct command of Major-General Gathoth Gathkuoth have recaptured the strategic town of Malakal, the capital of oil-rich Upper Nile state," Brigadier-General Lul Ruai Koang, Machar's military spokesman, said.
Ruai said in Addis Ababa, where the two sides in the month-old conflict are holding peace talks, that the rebels are still pursuing Salva Kiir's forces.
Fighting has been raging in and around Malakal since Sunday, according to local reports.
Ruai said government troops were likely among some 200 people who drowned when a crowded boat sank as it carried people fleeing the fighting across the White Nile River.
"Government forces were chased, some towards Akoka. Our forces are still pursuing them. Some of them crossed the river. So the people who are said to have drowned in the river, I am sure some of them are government forces," he said.
Ruai said the General in charge of government troops in Malakal, Johnson Gony Beliu, abandoned his soldiers and fled to Juba with Upper Nile state Governor Simon Kun Pouch.
It was impossible to confirm Ruai's claims with independent sources or with the army.
Heavy fighting was reported in Malakal on Tuesday morning as the rebel forces launched a final assault on government positions.
Ruai said that recapturing Malakal has given the rebels control of South Sudan's oil, which could give them a better bargaining tool at the peace talks in Addis Ababa.
But that was not the reason they launched their offensive on the strategic town, he said.
"We are not doing this so as to strengthen our position at the negotiations. We are doing this because we have been attacked several times," he said.
Ruai said the rebel forces will ensure that oil production continues in Upper Nile, which produces around 85 percent of South Sudan's oil, the backbone of the young country's economy.
Before a disagreement with Khartoum led to a production shutdown in January 2012, South Sudan produced half a million barrels of crude a day, accounting for 98 percent of government revenues and about 80 percent of gross domestic product, according to the Revenue Watch Institute.
On Friday, the South Sudanese military seized control of Bentiu, the capital of oil-producing Unity state, from Machar loyalists, just days before reports emerged that the rebels have taken Malakal.
The two sides are also fighting for control of Bor, the capital of Jonglei state, which government forces vowed last week to recapture from rebels, who took control of the town early on in the conflict.
The United Nations says more than a thousand people have been killed and hundreds of thousands have been displaced in over four weeks of violence in South Sudan.
Photo by Associated Press/Mackenzie Knowles-Coursin : Women carry belongings on their heads as they head towards the United Nations Mission in South Sudan (UNMISS) base in Malakal, South Sudan.