Ethiopia's Main Public Hospital to Shut its Surgery Rooms for Renovation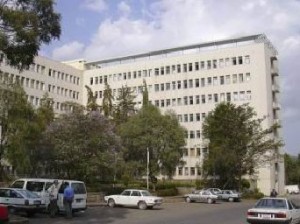 Surgery rooms in Ethiopia's largest public health facility are set to be closed for renovations, according to inside sources.
Doctors had been reportedly given until January 15th to evacuate for the renovations, which is expected to take up to 6 months to complete.
Black Lion Hospital (Tikur Anbessa in Amharic), located in the nation's capital Addis Ababa, is one of only two University Hospitals in the country.
In 1998, Black Lion Hospital, which is also the largest referral hospital in the country, was handed to Addis Ababa University (AAU) by the Ministry of Health (MoH) as a teaching hospital for the medical faculty.
The faculty is the oldest and largest among health training institutions in the country, staffed with the most senior specialists.
The hospital provides tertiary level referral treatment and is known to be open 24 hours for emergency services.
Tikur Anbessa is estimated to provide teaching for about 300 medical students and 350 residents every year. In addition, the hospital is estimated to also offers diagnosis and treatment for approximately 370,000- 400,000 patients yearly with 800 beds, 130 specialists and 50 non-teaching doctors.
The emergency department sees around 80,000 patients a year.
Insiders have told us that the doctors will be re-posted to different major hospitals around Addis Ababa, such as the Police Hospital, Menelik II Hospital and another hospital located in the outskirts of Addis Ababa, in the town of Woliso, which is to reported to deal with orthopedic cases.
"All we are doing now is following up on the patients that we've already accepted. After that we won't accept. We are being pressured as it is." one doctor says.
"But I am worried. it is going to be hard for people coming from around the country. The news has not yet been officially released and what are we going to do if critical cases arrive?" another doctor noted.