Bomb Blast in Nairobi Kills 6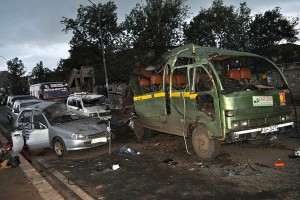 A bomb blast in Nairobi's Eastleigh neighborhood has killed 6 people and severely injured over 30 others.
According to local police, a 32-seater minibus was traveling on a street close to the Somali-populated Eastleigh neighborhood on Saturday evening at about 5pm (local East African time), when a blast occurred, seemingly from under the minibus, tearing it to pieces.
At least one motorist nearby is reported to have been among the casualties. Officials had initially reported 4 people dead, but on Sunday the number of casualties was increased to 6, after 2 people passed on overnight.
A local police chief Benson Kibue told reporters that the police is "investigating to establish if the explosion was caused by a grenade attack or an improvised explosive devise, we also want to establish if the attacker was in the vehicle or if it was thrown at it."
There are reports that 21-yeas old Hussein Nur Mohamed stepped out of the bus moments before it exploded, according to Wire Update. The police have since published his photos and called on anyone with information on his whereabouts to come forward. A warrant is reported to have also been issued for his arrest.
Meanwhile, there are reports that the police have taken a suspect from the scene into custody. Police chief Kibue revealed that the suspect "is assisting us with the investigations."
Eastleigh or "little Moghadishu" as it is affectionately known due to its high percentage of Somali residents, was in the news earlier in the year when two suspected Somali terrorists blew themselves up unexpectedly. The pair, who are reported to have been preparing a bomb to detonate at a venue filled with fans watching the match between the Walyas and the Super Eagles of Nigeria, were blown to pieces in their little apartment. It is still unclear if the two suspects were related to Al Shabab.
Fouling Kenya @ 50 Celebrations
Kenyan security officials say several attacks over the past week highlights the fact that Al Shabab is still a potent force and that Kenya must step up her efforts to fight terrorism in her territory.
Many commentators have also noted that several attacks last week seems to have been premeditated to divert the nation's attention from its 50 years of independence celebrations.
At least 9 people (including 5 police officers) are reported to have been killed last week in attacks in eastern Kenya, close to the Somali border.
Numerous Kenyan authorities have expressed concern that Islamist extremists may be filtering into Kenya undetected through the nation's 700 kilometer border with Somalia. Several terrorists, including the 4 behind September's Westgate mall attack, are reported to have entered into Kenya through this route.
Also last week, Kenyan security forces were caught off guard when a grenade was hurled at a bus carrying British tourists in Mombasa. However, the explosive failed to detonate and the group, who are reported to have been on their way to the Masai Mara Safari Park, escaped unharmed.
Since the Kenyan government deployed troops into Somalia in 2011, following the Al Shabab's attacks on tourists and aid workers, Kenya has been on the receiving end of many deadly attacks by the terrorist group. The latest and most deadly was the September 21st attack on the Westgate mall in Nairobi, which left close to 70 people dead. The terrorists have repeatedly defended these attacks saying it is intended to pressurize the Kenyan government to withdraw from Somalia.
Photo: The scene of the blast, showing the mangled cars.