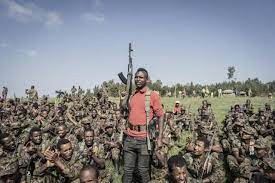 Afar forces dislodge Tigrayan troops from Abaala  town 
The Afar special force and militia have dislodged Tigrayan troops from Abaala, a town in north-eastern Ethiopia.
Artillery shooters of the Tigrayan force who have been firing heavy weapons on civilians in the town have been routed in airstrikes, witnesses told Zegabi.com on Monday.
The town has undergone a complete destruction due to multiple attacks by the heavy weapons.
Reports say currently there is no fighting in Afar region but thousands of residents in the town have been subjected to forced displacement.
The Afar regional government in a statement warned for retailation if the Tigray government does stop firing on civilians.
Meanwhile, the Inter-Ministerial Task force (IMTF), tasked to investigate human rights violations in the context of the conflict in northern Ethiopia, ratified a detailed action plan for its four main committees.
The task force ratified the draft action plan during its meeting last Wednesday, said Dr. Tadesse Kassa, head of the Secretariat Office of IMTF in a statement issued o Monday.
The government established the IMTF to take accountability measures in all serious violations that have occurred in Tigray as well as Afar and Amhara regions after the declaration of unilateral ceasefire in June 2021.
The establishment came weeks after a joint investigation team drawn from the Ethiopian Human Rights Commission (EHRC) and the UN Human Rights Office released its investigation report on November 3, 2021.