Former Rwanda Presidential Guard Charged with Terrorism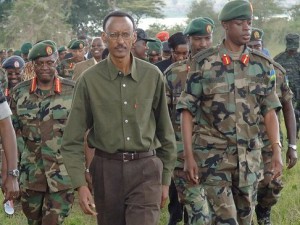 An ex-guard of the Rwandan President has been charged with terrorism after being repatriated to his home country from Uganda in October.
37-year old Lt. Joel Mutabazi appeared in a military court today alongside 14 other suspects, where he was leveled with 6 charges including terrorism, endangering state security and fomenting revolt.
The suspect allegedly defected from the Kenyan Defense Force in 2011 over fears for his safety as he anticipated prosecution from the government.
Until his arrest on October 25th, Lt. Mutabazi is reported to have been living in a property provided by the United Nations High Commission for Refugees (UNHCR).
According to Ugandan authorities, the suspect was arrested after a warrant was issued by Interpol on behalf of Rwanda. However, the suspect was handed over to the Rwandan authorities without being put through any of the necessary legal procedures.
Last week, the UNHCR expressed concerns for the safety of the suspect, who allegedly went missing for about 6 days until the Rwandan police announced he was in their custody.
Daniel Beleke, Human Rights Watch's Africa director explained that "Uganda had granted Mutabazi refugee status in 2011, which means his risk of persecution in Rwanda had been established and recognized.
"It's unconscionable that they handed him over to the police force of the country whose persecution he fled," he added.
Meanwhile, the Ugandan Police have revealed that the officer who arrested Mutabazi has been fired and an investigation into the issue has been opened.
Lt. Mutabazi is reported to have been the target of a failed abduction and assassination attempt while living in Uganda.
In a press release published recently, the Rwandan National Congress, which the suspect is alleged to be a member, insist that neither the suspect nor the RNC "are involved in terrorist activities in the country."
Lt. Mutabazi appeared in court without any legal representatives today, explaining that he wasn't ready for trial since he didn't have a lawyer and is short of funds to hire one.
As a result the Judge has postponed the case against Lt. Mutabazi to the 25th, to enable him and the other accused persons sort out their legal representation.
Source: Human Rights Watch & The East African