Track laying for Addis Ababa's Light Railway Project begins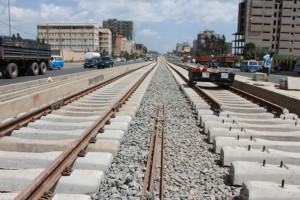 The laying of tracks for the Addis Ababa Light Railway Project officially commenced last week.
The tracks will cover areas on the Ayat to Megenagna road and some areas on the Megenagna to Stadium road. Currently the project is said to be 43% completed and by September 2013, it is predicted to be about 80% completed.
Mayor of the Addis Ababa City Administration, Diriba Kuma, and Minister of Transport, Workneh Gebeyehu, together with city residents witnessed the launching of the track laying.
Speaking at the launch, Mayor Diriba described the ceremony as historic. He said the event is the first of its kind in a hundred years.
Transport Minister, Workneh Gebeyehu, in his speech, extended his appreciation to residents of the city for their patience during the construction.
The Addis Ababa Railway Project runs from northern Addis to the south and from east to west and is 34.25 kilometers long. Covering the ten sub-cities of Addis Ababa, the line that goes from east to west starts at Ayat square then continues through Megenagna, towards Meskel Square, and reaches Tor Hayloch hospital area. This line is about 16.75 kilometers long.
The line from the northern part of Addis to the south starts from Piassa at Menelik Square and continues through Addis Ketema, towards Tor Hayloch area, and passes by Gotera to reach Kaliti. This route covers a total of 17.5 kilometers.
According to the Ethiopian Railways Corporation, train stations will be built approximately 600 to 700 meters apart from each other. About 39 stations are expected to be along the routes. A total of 41 trains within 30 meters distance are expected to transport 60 thousand passengers for 18 hours every day.
The construction of the Light Railway Project is being undertaken by the Chinese Railway Engineering Corporation. Residents report that the construction of the railway lines have caused heavy traffic along the routes. After its completion, it is expected to alleviate the traffic overload in most parts of the town and become a viable solution to the current transportation problem.
The Ethiopian Rail Ways Corporation has provided nine optional colors of the train for the public to vote for. Project Manager Behailu Sintayehu said the color chosen by the majority will be used for the trains. The public can vote for the color of their choice at Legehar Rail Station compound, the former Arategna Kifletor compound, the Railway Project Office around Ayat, and at the Head office of Ethiopian Rail Ways Corporation.
Source: Ethiopian Reporter