15 Kenyan immigration officials fired over Westgate attack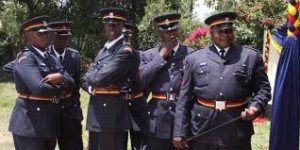 The Kenyan government has dismissed fifteen immigration officials following an investigation into last month's deadly attack on the Westgate mall.
Authorities say the officials are being dismissed for their involvement in issuing illegal immigrants with Kenyan identification documents.
The officials, which includes senior and mid level immigration officers, are set to be arraigned before a court.
Kenya's Cabinet Secretary for the Interior, Ole Lenku said the government wants "to remove all those who may have been part of the network that is facilitating the issuance of Kenyan identification documents to illegal immigrants who turn out to be criminals."
He added that "The government is committed to do everything in its power to ensure that Kenyans live in [a] secure and peaceful environment".
The terror attack of September 21st was the deadliest Kenya has experienced in over a decade, leading the government to launch an extensive investigation into the event. All government institutions are set to be audited by security personnels as part of stringent investigations into the siege which left at least 67 people killed and 175 injured.
Somali based terror group, Al-Shabab, have since claimed responsibility for the carnage and promise more in a bid to pressurize Kenyan authorities to withdraw from Somalia.
Kenya, which shares a northern border with Somalia, is looking to better manage the influx of unregistered immigrants into the country. Security experts believe members of Al-Shabab may be moving through this border into Kenya in search of new recruits and to further develop their network.
As part of the efforts to stem this largely uncontrolled illegal immigration, Kenyan authorities are seeking to amend laws which deal directly with the registration of persons.
The government has also recruited some more experienced officers to the immigration department as way of systematically revamping the entire service.
The Minister said the government is hopeful "These officers will help to streamline and revamp the immigration department to avoid a recurrence of security lapses we have witnessed in the past."
As part of the investigations into the 21st September attack, the Kenyan government is scheduled to carry out a strict examinations of all Kenyan identity cards issued within the last two years. According to reports, about 350,000 identity cards in registration centres across the Kenya have not been claimed. Authorities are giving a waiting period of three months, after which the cards will be destroyed.