Investigators recover bodies and weapons from Westgate rubble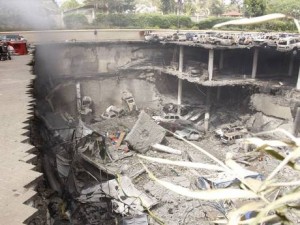 Forensic investigators at the Westgate mall, on Thursday, retrieved two charred bodies, a human skull and several other body parts believed to belong to the terrorists who attacked the mall last month.
The chairman of the Westgate attack investigation committee, Ndung'u Gethenji, said AK47 rifles were found near the bodies and it is highly likely that the charred remains are of the Al-Shabaab militants since the Kenya Defence Forces (KDF) does not use AK47 rifles.
The investigators will however conduct tests on the recovered bodies.
Another security officer who is privy to the details of the investigation said a rocket propelled grenade was also found under the rubble.
"We will continue with the recovery tomorrow but we have made some recoveries. What we discovered today will offer crucial information on the identities of those behind the attack," the security officer said.
Earlier this month, investigators identified one of the vehicles that had been used to transport the terrorists to the site. Several items including weapons were recovered from the vehicle which has provided many credible leads to the authorities.
It is still unclear how many terrorists were involved in the attack and whether some of them managed to escape from the building. Authorities initially said that there were 10-15 attackers but later adjusted the number to 4-6 after reviewing CCTV footage from the mall. Over 40 suspects have however been arrested and interrogated in connection to the attack.
A group of Al-Shabab terrorists stormed the Westgate mall in Nairobi on September 21st and opened fire on civilians. A total of 67 people died in the attack and hundreds others were injured.