Kenya charges suspect linked to Westgate attack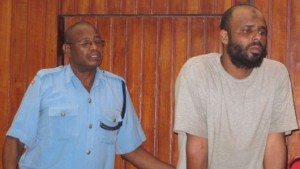 A Kenyan man has been charged for allegedly planning to carry out terror attacks and for being in possession of explosives
The hearing took place at a court in Kenya's port city of Mombasa.
Kenyan authorities say the suspect, Swaleh Abdallah Said, may be linked to last month's attack on the Westgate mall. He is reportedly part of a group that finances and aids the recruitment of new fighters for the islamist militant group, Al-Shabab.
According to a Senior officer in the anti terrorism Police unit, Said has been on the "terror radar since 2004 when he joined Al Shabab."Authorities suspect he has undergone paramilitary training in Somalia.
He was arraigned in court on Friday where he denied all the charges against him. Mombasa Senior Resident Magistrate Richard Odenyo then directed that he be remanded at a Police station for four days after which the court will rule on the case.
The prosecution had previously requested the court to allow about four days for thorough investigations and information gathering which could lead to the arrest of Said's accomplices. Chief prosecutor Simon Waithaka said "We are requesting four days to conclude investigations because we are linking the accused to the recent acts of terrorism at Westgate in Nairobi." The suspect has been remanded at the Makupa Police Station.
The accused was arrested at Likoni area of Mombasa on Thursday morning by officers from the country's Anti Terrorism Police Unit. He later led the officers to his home in Mombasa where they found a grenade and other explosives, two mobile phones and passports.
The Kenyan government has increased its efforts against terrorism since Alshabab claimed responsibility for the September 21st attack on Nairobi's Westgate shopping mal, which left 67 people dead. This was the worst attack in Kenya since the 1998 bombing on the U.S. Embassy building in Nairobi. Eight people are being held in connection with the attack but only four have been named.
Another terror suspect, Said Nassir Haddir, was arrested on Thursday in connection with this attack. According to Mombasa county Police commander Robert Kitur, the 19 year old student who holds a valid Tanzanian passport communicated with some of the terror suspects who are being held by the police.