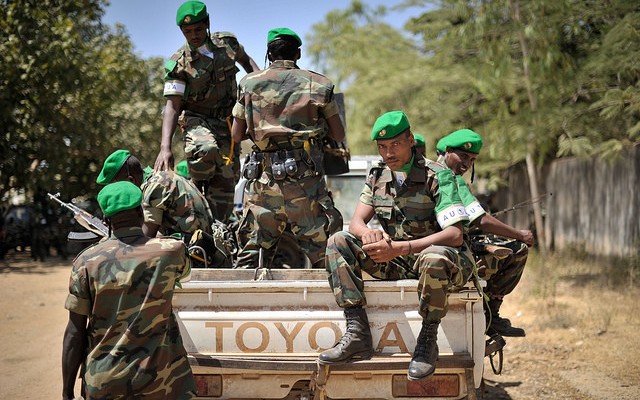 Has Ethiopia Withdrawn its Troops from Somalia Over Amhara and Oromo Anti-Government Protests?
The Ethiopian government has allegedly recalled about 3,000 soldiers based in Somalia to help quell the ongoing anti-government protests engulfing the Amhara and Oromia regions.
The troops, who are reportedly not part of Ethiopia's African Union Mission in Somalia (AMISOM) peacekeeping force, were withdrawn from six military bases, Live From Mogadishu reported on Friday.
The forces were reportedly withdrawn from Ethiopia's bases in the Somali's towns of Rabdhure, Burdhuhunle, Garasweyne, Gal'ad, and Budbud, and Moqokori.
Ethiopia, which is one of five African countries contributing troops to the AU peacekeeping mission in Somalia, has not yet commented on the reports making rounds on social media.
Neither the Somali government or AMISOM have confirmed Ethiopia's decision to withdraw thousands of its troops from Somalia.
Ethiopia has supported AU's efforts to restore peace to Somalia which has been affected by war for decades. AU troops are fighting Al-Qaeda affiliated al-Shabab to protect Somalia's internationally backed-government. Shabab is seeking to overthrow the government and turn Somalia into a fundamentally Islamic state.
Shabab has launched several attacks targeting Ethiopian bases in Somalia.
Ethiopian authorities have been grappling with widespread anti-government protests. The protests, which are ongoing in the Amhara and Oromia regions of Ethiopia, have turned violent, leading to the death and incarceration of several demonstrators. Human Rights Watch puts the number of causalities at around 500 people since the protests began in Oromia last November.
The United Nations has called on the Ethiopian government to allow foreign investigators into the country to look into claims that police have used excessive force against protesters. However, Ethiopia's Prime Minister Hailemariam Desalegn has denied the request, saying that allowing foreign inquirers into the country would be a violation of Ethiopia's sovereignty.
Ethiopian authorities claim that the protests, which started peacefully, has since been hijacked by foreign forces looking to destabilize the country.