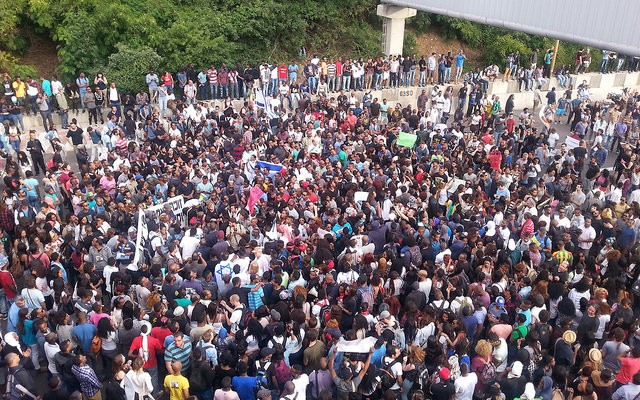 12 Ethiopian Jews Arrested During Mass Protest Against Alleged Israeli Police Brutality and Discrimination
Hundreds of people took to the streets of Tel Aviv on Sunday to protest against alleged brutality and discrimination by the Israeli police against Ethiopian Jews.
The demonstrators reportedly caused traffic jams along several main routes in Tel Aviv. Twelve protesters were arrested after attempting to block a major Highway and refusing to follow "police instructions."
Protestors carried signs that read "Racist policy," and "Violent cops should be jailed," Haaretz reported.
Other protest signs bore the name of Yosef Salamsa, a young Ethiopian-Jew, who committed suicide months after the police allegedly abused him in 2014.
In February, a criminal investigation into Salamsa's death was closed after investigators found no evidence of illegal conduct by the police officers.
The Police Internal Investigations Department, which announced the closing of Salamsa's case, said while no proof of misconduct was found, other serious procedural errors were uncovered. The report discovered mistakes in the way officers handled Salamsa's incarceration.
Police arrested Salamsa near Zichron Yaakov in March 2014. Although he was never charged with any crime, he was tasered and detained, Times of Israel reported. Following his release, Salamsa fell into depression, and this prompted his family to report his arrest.
According to his family, after their complaint, the officers, who allegedly tasered Salamsa, continued to harass him. Salamsa's body was discovered in a quarry in Binyamina in July 2014. Officials later ruled his death as suicide.
Ethiopian Jews have been accusing Israeli police of abuse and brutality for years now. Thousands protested against ill-treatment at the hands of the police during a series of demonstrations that rocked Israel last year.
The mass protests began after a video showing an Ethiopian Jewish soldier being beaten by police officers went viral.
[Photo by Lilach Daniel/Flickr]