Ethiopia Hosts Another Tripartite Meeting Over Grand Renaissance Dam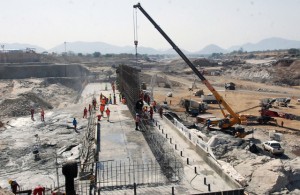 Ethiopia hosted another tripartite meeting over the technical studies of the Grand Ethiopian Renaissance Dam (GERD) in Addis Ababa this week.
The irrigation and foreign ministers of Sudan, Egypt, and Ethiopia reportedly met to reach a consensus on the hydro-dam.
Technical studies into the possible negative effects of the construction of the dam are currently being conducted by Dutch and French consultancy firms. The GERD, which is being built on the Blue Nile, will have a storage capacity of 74 billion cubic meters of water.
This Friday, Egypt's Water Resources and Irrigation Minister Mohamed Abdel Aaty said the technical studies can do no harm. He added that any disagreements that may arise can be allayed through dialogue.
"Ethiopia is determined to build the dam, although the safety and environmental impact of the dam have not yet been studied," Egypt's former Foreign Minister Nabil Fahmy said.
Egypt has expressed worry that the construction of the dam will affect its annual share of the Nile water, which is its only water source of fresh water.
Since 2010, when Ethiopia announced plans of constructing the 6,000 MW Dam, there have been disagreements with its neighbors. Sudan and Egypt, both beneficiaries of the Nile, have expressed worries over the project.
Upon completion, the GERD will be the biggest hydroelectric power plant in Africa. The Ethiopian government has voiced assurance that the dam will not negatively affect downstream countries.
Photo: AFP