Eritrea Condemns Murder of Refugee in Israel, Demands Arrest of Attackers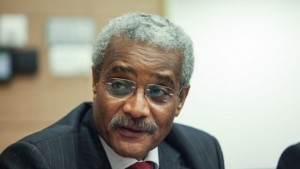 The Eritrean government has criticized Israel for the death of an Eritrean man in the hands of an angry mob at a bus station in Bir-al-Saba this past weekend.
The deceased, 29-year-old Haftom Zarhum, was seeking asylum in Israel where he has been working for several years. On Sunday, Zarhum was mobbed to death at a central bus station in the Israeli city after being mistaken for a terrorist.
A 21-year-old Arab-Israeli citizen Mohannadd Al-Aqaby had attacked the bus station wielding a knife and a gun. In what has been described as one of most bloody attacks in recent times, Al-Aqaby killed a 21-year-old Israel soldier and injured 11 others.
Israeli police officers, who responded to the scene, shot Al-Aqaby dead.
Amid the chaos of the attack, a security officer at the bus station somehow assumed that Zarhum was Al-Aqaby's accomplice. The Eritrean, who was visiting the city to secure a work permit, was shot several times by the officer. As Zarhum lay on the floor bleeding, an angry Israeli mob beat him mercilessly.
A sickening viral amateur video shows a defenseless Zarhum squirming in pain while being kicked in the head repeatedly. A long bench was also thrown on him. A man is seen trying to protect him from the mob by pinning him under a chair.
The mob, who mistook Zarhum for an Arab, allegedly prevented medics from attending to his injuries. The angry crowd reportedly chanted "death to the Arabs" and Arabs out."
Zarhum died on Monday at a hospital. He reportedly suffered wounds to his chest, abdomen and a fractured femur.
"I can tell you that I really mourned his death. His death is not justified," said Yonhanan Baizel, the surgeon who treated Zarhum for three hours at the Soroka University Medical Center.
The Eritrean government has condemned the tragic incident saying it represents the frequent cases of racism and hostility many of its citizens experience in Israel.
"For the Eritrean people in particular, the tragic incident is a poignant reminder of the hidden and unreported repression routinely committed in Israel against tens of thousands of the compatriots," Eritrea's Minister of Information Yemane Meskel said on Monday.
Amnesty International said it was appalled by Zarhum's death, particularly because he was targeted due to the color of his skin.
"He was a victim of racism and xenophobia who just happened to be at the scene of a terrorist attack," a statement from the human rights group said.
"It's terrible," Israeli foreign ministry spokesman Emmanuel Nahshon said in a rare official statement regarding Zarhum's death. "It shows you what a terrible situation we are in."
A witness told Ynet that "People took out their rage on the wounded Eritrean and abused him. We thought he was one of the terrorists. He was shot in the legs and the real terrorist ran outside."
Another member of mob identified as Dudu told Army Radio that he regretted kicking Zarhum after discovering his identity.
"All the people gathering around the man attacked him. Nobody was helping him. People just were making sure he doesn't move. There is no human being who did not kick or beat him. Everyone took part. I couldn't sleep last night thinking about what happened and I feel sick about myself," the witness said.
Israeli Prime Minister Binyamin Netanyahu has cautioned people not to take the law into their own hands. "We've a country of law. No one will take the law into his own hands," he said after the attack.
Despite the tragic incident and the uproar it has caused, it doesn't seem Israeli authorities plan to punish the mob for Zarhum's death. Two days after the attack, no member of the mob captured in the viral amateur video has been arrested.
Mickey Rosenfeld, spokesman for Israel's police force, said the private security officer who shot Zarhum repeatedly has been questioned and released.
On Tuesday, Eritrea's ambassador to Israel Tesfamariam Tekeste demanded an investigation into the incident as well as the arrest of the officer and members of the mob, who attacked Zarhum.
Tekeste cautioned Eritrean nationals living and working in Israel to be careful as they go about their business. He said Zarhum's remains would be flown back to his family for burial after the investigation into his death is concluded.
Zarhum is from Shambuko, a small town in the Gash-Barka region of western Eritrea. About 20,000 Eritreans are estimated to be living in Israel.
Photo: Noam Moskowitz/Flash90