New Wave of Violence in Burundi's Capital Leaves 10 People Dead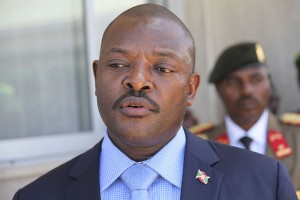 BUJUMBURA – Ten people were killed on Tuesday night during a police operation to rescue kidnapped officers in Bujumbura. This is the latest wave of violence to hit the country since President Pierre Nkurunziza was sworn in for his third term in August.
Unknown assailants reportedly kidnapped three police officers on Tuesday night in Ngagara, an opposition stronghold district. During the rescue operation five of the kidnappers and one of the abductees lost their lives.
Deputy Police spokesman Pierre Nkurikiye, who made an announcement about the incident on Wednesday, did not reveal the names of the kidnapped officers or the assailants.
Local sources say a Burundian state television cameraman Christophe Nkezabahizi and his family were shot dead during the operation. There are conflicting reports about how Nkezabahizi, his wife and two teenage children were killed.
According to a national radio report, Nkezabahizi and his family were killed along with five other people in his compound. They were reportedly shot during a police operation to rescue the kidnapped officers. At the moment, it is unclear if they were killed by police bullets or by the kidnappers'.
Nkurikiye said an investigation into the deaths of Nkezabahizi and his family has been opened.
Meanwhile, on Tuesday night, a woman was killed in a grenade explosion in the Jabe district. Nkurikiye said two police officers were also injured in the blast.
Burundi has been in a state of unrest since April, when President Nkurunziza's plan to remain in office for a third term sparked waves protests and a failed coup. Since then, there have been a number of violent clashes between security forces and opposition supporters.
Nkurunziza's opponents say his third term is a direct violation of the 2005 peace agreement, which brought an end to a 12-year-long civil war in the country.
Last month, the United Nations (UN) warned that the current situation drag Burundi back into civil war. More than 200,000 people are estimated to have fled Burundi to neighboring countries as the violence escalates.
"The unstable situation in Burundi is marked by human rights violations including extra-judicial executions, arbitrary arrest and dentition of persons opposing the third term," the UN report read.
Officials expect the number of Burundian refugees to rise as violent protests and extra-judicial killings continue.
Nkurunziza's administration has accused Rwanda of training and arming rebels to disrupt Burundi's peace. However, the Rwandan government has explicitly denied the accusations.