Zambia police found 100 Ethiopians hidden in truck's container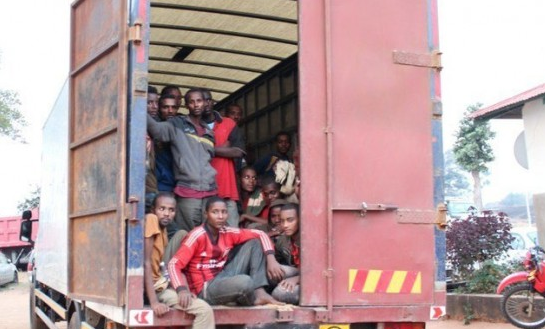 LUSAKA, ZAMBIA – Police in Serenje, Zambia, have intercepted a truck carrying 100 prohibited immigrants of Ethiopian origin, who were hidden behind bags of dry lake sardines locally known as kapenta.
The truck, which was seized at Kanona police check point on Great North Road in Central Province, was, from Nakonde to an unknown destination within Zambia.
Police suspect the Ethiopians entered the country through Nakonde border and were assisted by Zambians who were paid to commit the illegality.
"I can confirm that we intercepted a truck carrying 100 prohibited immigrants from Ethiopia. The prohibited immigrants have been screened for Ebola, and the Immigration Department, who are working with us, have continued to screen them for other issues," Central Province commissioner of police Lombe Kamukoshi said.
Ms Kamukoshi said in an interview yesterday that three Zambians, who allegedly aided the movement of the prohibited immigrants, have been arrested.
She said the containerised truck was intercepted after a tip-off from the public and that the 100 people aged between 10 and 50 were found in the truck's container. Most of them are juveniles.
Ms Kamukoshi said the three Zambians have been identified as Richard Mwanza, 26, driver of the truck, Michael Malasha, 37, co- driver, and Mwenya Mutale, 23, a lorry-mate, all from Tinde Township in Nakonde district.
She said the Ethiopians are detained at Mukobeko Maximum Security Prison in Kabwe.
Police and the Immigration Department are yet to establish the intended final destination of the truck.
Source: Zambia Daily Mail