Border Crossing between Sudan and Ethiopia to be Opened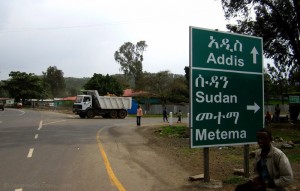 The final arrangements for the opening of Galabat-Matema border crossing between Sudan and Ethiopia will be made this April.
State Minister at the Ministry of Transport, Sirajuddin Ali Hamid said the competent authorities held a meeting that included representatives from the ministry, Department of Passports.
He stressed the need to integrate the roles for the extension of the state's prestige and coordinate efforts to reverse the bright face of Sudan and provide excellent service.
"The crossing comes in implementation of the passenger transport agreement, which was signed in December 2013 with Ethiopia, and approved by the Council of Ministers," Hamid said.
Galabat – Matema crossing is one of the most important strategic crossings for its economic and political importance of the two countries.