Yemen fighting affecting Ethiopian Airlines flights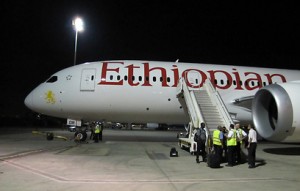 Ethiopian Airlines was forced to postpone two flights to Israel on Thursday after it did not have permission to fly on route due to the escalating turmoil in Yemen and in light of information received from security sources. About 280 Israelis who were on vacation in the area were supposed to be aboard the flights, which eventually took off after long delays.
The first flight was scheduled to take off from the Addis Ababa Bole International Airport in the afternoon hours, and land in Tel Aviv at 8 pm. The second flight was supposed to take off in the evening and land in the Ben Gurion International Airport at 3 am.
Ethiopian Airlines' Israel Manager Henok Teshager said that the delays were due to regional developments and information obtained from security officials both in Ethiopia and abroad over the past 24 hours. He confirmed that most of the passengers were Israelis.
Source: ynetnews.com