Magma blob under the Afar Rift In Ethiopia raises new questions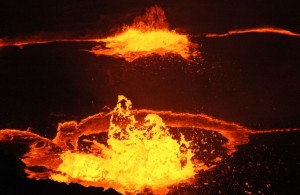 The Afar Rift in eastern Ethiopia is marked by enormous gashes that signal the breakup of the African continent and the beginnings of a new ocean basin, scientists think.
The fractures appear eerily similar to seafloor spreading centers, the volcanic ridges that mark the boundaries between two pieces of oceanic crust. Along the ridges, lava bubbles up and new crust is created, slowly widening the ocean basin.
But a look deep beneath the Afar Rift reveals the birth announcements may be premature. "It's not as close to fully formed seafloor spreading as we thought," said Kathy Whaler, a geophysicist at the University of Edinburgh in Scotland.
Whaler and her colleagues have spotted 120 cubic miles (500 cubic kilometers) of magma sitting in the mantle under the Afar Rift. Hot liquids like magma like to rise, so the discovery is a conundrum.
"We didn't expect this, because magma wants to pop up like a cork in water; it's too buoyant compared to the surrounding medium in the mantle," Whaler told LiveScience's OurAmazingPlanet…. READ MORE