Ethiopia: Road linking Afar-Djibouti to be finished by Nov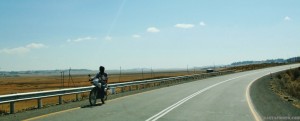 Ethiopian Roads Authority (ERA) disclosed the Hawsewa-Abeala-Arbeti asphalt road, which it is constructing at the cost of a Billion Birr, is 93 percent over. The road is expected to be fully completed by the coming November.
According to Samson Wondimu, Communication Director at the Authority, the project is fully covered by the Federal Government and the construction is carried out by the Chinese company CZJZEC.
An Indian company, on the other hand, is carrying out the consultancy and supervision works.
Samson noted the road links the Afar State with Djibouti and the construction is carried out in four phases. The first two parts, Serdo – Afdera and Afdera – Arbeti, are already operational.
As the road cuts short the link from the northern part of Ethiopia to Djibouti port, it will facilitate import and export trade.
According to Samson, the project was initially planned to be finished in three years. Yet it lagged behind schedule for two years.
Photo: Rastateacher.com
Source: Ethiopian News Agency- Addis Ababa