Djibouti's Primer Minister meets Chinese counterpart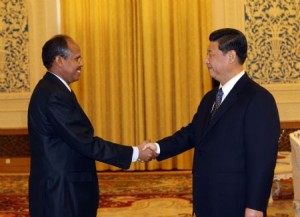 Xinhua(Djibouti City) – Chinese Premier Li Keqiang met with Djibouti's Prime Minister Abdoulkader Kamil Mohamed at the closing ceremony of the second Summer Youth Olympic Games in Nanjing on Thursday.
During the meeting, Li said China is willing to support Djibouti's efforts to build a regional logistics hub, develop a port economy, improve their people's livelihood and create a peaceful harbor for the region.
Since the forging of diplomatic ties 35 years ago, both countries have always supported and treated each other as equals, he said.
China and Africa, one the largest developing country and the other home to the largest number of developing countries, have shared destinies and interests, and enjoy highly compatible cooperation, said the Chinese premier.
He vowed to enhance win-win cooperation with African countries and bring benefits to the people.
Kamil said Djibouti admires China's achievements and hopes to learn from the country's experience while pushing forward bilateral cooperation on all fronts.
Djibouti is ready to utilize its geographical advantage to become a gateway for Chinese products into Africa, said Kamil, expressing his hope for more Chinese investment in the country.
The Nanjing Summer Youth Olympic Games, started on Aug. 16, will conclude on Thursday evening.
The Youth Olympics, a sporting event for the youth of the world, was proposed by former International Olympic Committee President Jacques Rogge. Singapore held the inaugural Youth Olympics in 2010.