Ethiopia: Tripartite talks over renaissance dam resumes in Khartoum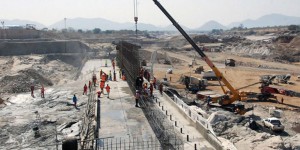 The irrigation ministers of Ethiopia, Egypt and Sudan resumed their discussions over the contentious Grand Ethiopia Reniassance Dam (GERD) in Khartoum on Monday after an unexpected five-months long break.
Egyptian daily Al Ahram reported that the official opening session of the talks has taken place on Monday morning. Another meeting between the delegates is expected to be held later in the day.
Egypt's newly appointed Water Resources and Irrigation Minister, Hossam Hegazy, had noted that the new round of discussions would continue from where it was stopped in February and also address concerns over the filling and spillage of the gigantic dam.
At the latest meeting, he explained that it was not the intention of the Egyptian government to stand in the way of the development of downstream countries. He, however, stressed the need for more studies to ascertain the effects of the dam on the environment.
This is one of the points of contention that led to the break down of the talks earlier in the year. While Egyptian experts say the dam will dangerously reduce the arid country's freshwater supply, their Ethiopian counterparts insist otherwise.
Officials from both countries traded accusations at one another in a public campaign to gain support for their sides before agreeing to sit at the negotiation table again.
The Ethiopian Water Resources and Irrigation Minister, Alemayehu Tegenu, told his colleagues on Monday that the renaissance dam posses no threats to their interests. Instead, he noted that it promises to aid regional developmental efforts.
President Abdel Fattah El-Sisi and Prime Minister Hailemariam Desalegn met in June to sort out the key points of differences between both sides. Reports indicate that the ministers will also address the issues raised in that meeting.
President El-Sisi has said that he is willing to visit Ethiopia to deliberate with his counterparts in order to secure his country's freshwater supply.
Meanwhile, the Irrigation Minister of Sudan, Moataz Moussa, stressed the need for an agreement to be reached quickly on this issue. He also pointed out that Sudan was not a mere mediator, but a partner in the discussions.
A few weeks ago, the Ethiopian Radio and Television Agency revealed that the renaissance dam is about 35.8% complete.
Zadig Abraha, the deputy director general of the National Council for Coordination of Public Participation for Construction of the Grand Ethiopian Renaissance Dam, disclosed that public support has been pouring in for the project.
Mr. Abraha revealed that the council has received about 6 cars and 12 motorbikes thus far.
The $4.8 billion renaissance dam is being completely funded by the sale of government bonds. The dam, which will hold the record holder for being the largest hydroelectrical facility in Africa upon its completion in 2016, will add 6,000MW to the national grid.
Photo/AFP