Top Rwandan opposition politician freed from jail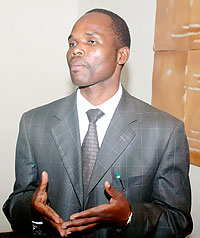 Bernard Ntaganda, the founder of opposition Social Party Imberakuri, has been released from the Mpanga International Prison in Nyanza district, Southern Province, after completing his four-year sentence.
The outspoken lawyer and politician, who had reportedly intended to compete in the 2010 presidential polls, was arrested for allegedly threatening state security, 'divisionism' and attempting to organize demonstrations without official permission.
Despite the fact that Ntaganda had denied the charges levelled against him, the Supreme Court failed to reduce his sentence in 2012. Several human rights advocacy groups – including Human Rights Watch and Amnesty International – had campaigned for the unconditional release of Ntaganda to no avail.
Although Ntaganda has revealed that he was being persecuted by the government thus his incarceration, he has announced that he will return to politics.
"I am not a loser in politics…I will not give up" he said.
Meanwhile, PS-Imberakuri has reportedly since split into two factions; with one side allegedly with links to the ruling Rwandan Patriotic Front (RPF).
The Rwandan government has been accused of stifling free speech and persecuting opposition groups. Critics say many of the country's opposition politicians are either in exile or incarcerated.
Photo/The New Times