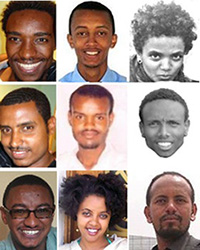 Several activist groups have raised their voices in protest against the recent arrest of six bloggers and three journalists by the government.
Reports indicate that the group, who were arrested late last week, have been charged with inciting public unrest and conspiring with foreign organizations posing as human rights activists.
Ethiopian authorities are notorious for aggressively repressing free speech and political opposition. However, many pundits have expressed surprise at the recent clamp-down – especially since it comes just weeks before the United Nations is set to review the country's human rights record.
Reports indicate that the police have searched and recovered several items from the homes of the jailed dissenters.
Meanwhile, Ethiopians and human rights groups have embarked on a campaign on social media to secure the release of the jailed commentators.
It is currently unclear how much effect the campaign would have on the Ethiopian government – as the internet penetration rate of the east African nation is reportedly low.
However, the United States Secretary of State, John Kerry – who landed in the country for a short visit on Tuesday – is also being prodded by the campaigners to secure the release of the recently jailed commentators and other dissidents.
Last year, Human Rights Watch reported on the flagrant violations of human rights being perpetuated in prisons and detention centres across Ethiopia – particularly Maekelawi, where the group are reportedly being held.
The bloggers, identified as Atnaf Berahane, Mahlet Fantahun, Natnael Feleke, Befeqadu Hailu, Zelalem Kiberet and Abel Wabela, are part of a social media activist community; 'Zone 9.' The group are known to have been critical of several of the government's activities – including the wanton incarceration of journalists and dissidents.
The other three people in custody with the members of Zone 9 are journalists; Edom Kassaye, Tesfalem Weldeyes and Asmamaw Hailegorgis.
Photo/CPJ/Zone 9/Addis Guday/Facebook