Rwanda officially commemorates 20th anniversary of 1994 genocide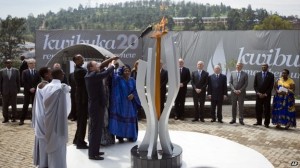 The Kigali stadium was filled with emotional scenes as the nation marked 20 years since the mass murder that led to the deaths of about a quarter of the population.
President Paul Kagame and United Nations Secretary General Ban Ki Moon lit the torch today – marking the completion of a nationwide tour of the 'kwibuka' 'remembrance' flame. Reports indicate that the torch is set to burn for 100 days to symbolically mark the duration of the genocide.
President Kagame has revealed that the roots of the genocide lay in the colonial administration's failure to resolve the historic conflict between the Hutus and the Tutsis before uniting them into one nation. "The result was a country perpetually on the verge of genocide", a Tweet from his office reads.
Rwandan officials have repeatedly accused continental and international regulatory authorities of failing to act in time to prevent the wanton murder of civilians.
A recent comment by the Rwandan president that France and Belgium had supported the killers during their murder spree sparked a diplomatic row that has eventually led to the absence of a representative of the French government at the landmark genocide memorial event.
According to the BBC, following the comments from President Kagame, the French Justice Minister Christiane Taubira, who was scheduled to attend the event pulled out – leaving the onus on the country's ambassador to Rwanda, Michel Flesch.
However, Al Jazeera has reported that Mr. Flesch revealed that he received a call on Sunday from the office of the president to inform him of the decision to officially bar France from the event.
Last month, France completed its first trial of a genocide suspect after Pascal Simbikangwa was convicted by a court in Paris.
Meanwhile, reports indicate that Belgian representatives were admitted to the ceremony.
President Kagame's Rwandan Patriotic Front (RPF) ended the killing spree in 1994 and has been influential in the country's road to recovery. However, the RPF has been accused of corruption and illegally attempting to silence dissidents at home and abroad.
Photo by BBC: President Paul Kagame and the United Nations Secretary General Ban Ki Moon light the remembrance flame in Kigali.