British High Court extends Deadline for Registration of Mau Mau Claimants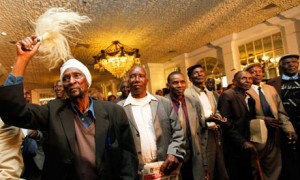 A British High Court has extended the deadline for Mau Mau veterans to file for claims for abuses they sustained during the colonial era by a month, from April 30th to May 30th.
A report by Daily Nation quotes, Cecil Miller, a lawyer from Miller and Company Advocates – the main firm responsible for collating the claims – explaining that the aim of the litigators "is to secure adequate and long-overdue financial compensation for [the] claimants."
Miller went on to direct all the claimants yet to file for compensation to contact any of the firms involved in the group litigation order (Tandem Law, GT Law, Knights Law, Slater and Gordon, and PKKamau/Glassbrook).
Many commentators had criticized the British government for failing to take responsibility for the ills of the colonial administration during the Mau Mau uprising between 1952 and 1963.
Reports indicate that about 100,000 people were killed and up to 160,000 illegally detained in concentration camps and tortured for their role in the revolt.
Despite many calls for reparation over the decades, it was until last year that the British government paid out $ 30.8 million (about Sh2.6 billion) to 5,200 Mau Mau veterans.
Following this landmark litigation, several veterans voiced complaints on being left out of the process, forcing a British High Court to re-open the case for those left out to file for claims.
Legal representatives of the veterans say over 13,000 people have registered since the case was re-opened in October 2013.
Reports indicate that most of the Mau Mau warriors are currently in their eighties and a shadow of themselves during the peak of their rebellion. However, commentators say many of them insist on being compensated for the wrongs wrought on them as a vindication of their struggle.
British Foreign Secretary, William Hague, last year officially apologized for the "abhorrent violations of human dignity" during the revolt, noting that these abuses "marred Kenya's progress towards independence."
Photo by Dai Kurokawa/EPA: Veterans of the Mau Mau uprising.