al Shabab Loses 2 more Towns to Government Forces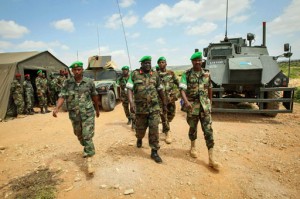 Two more towns have been reclaimed from the Islamic militant group, al Shabab, on Sunday, in Middle Shabelle region, southern Somalia.
According to a report by Anadolu News Agency, the towns were taken without any confrontation with the terrorists, who had already withdrawn.
This news brings to a total of eight, the number of towns to have been taken from the terrorists, who seem to be quickly losing their grip on the countryside.
At mid-night on Friday, reports indicate that the terrorists attacked two towns they have recently lost to the joint Somali army and African Union Mission in Somalia (AMISOM) forces.
According to Garowe Online, about 10 people were killed and up to 23 injured as a result of the rather desperate attacks in Bulo Burde and Buur Dhubo in the Hiran and Gedo districts respectively of south-central Somalia.
Commentators have highlighted on these attacks as evidence of Shabab's growing weakness.
The group also orchestrated another reprisal attack on a top hotel in Somalia on Saturday.
However, the explosion seem to have been prematurely detonated and only one casualty was reported from the attack, which targeted the Maka Al Mukarama Hotel – one of the foremost lodges in the war-torn country.
The Prime Minister of Somalia, Abdiweli Sheikh Ahmed, on Monday tweeted to announce that deputy ministers will be touring the newly liberated areas to assess the scope of the humanitarian and infrastructural requirements.
Somali officials last week unveiled plans of an impending offensive against the terrorists to liberate several towns in southern and central Somalia from the control of the group.
While AMISOM has been key to the newly found peace and stability in Somalia, AMISOM spokesman, Colonel Ali Aden Houmed, today told the media that Somali institutions are currently undergoing capacity building programmes and that AMISOM forces will pull out once the internal stability of the country can be guaranteed by its own security agencies.
"AMISOM appreciates that Somalia's destiny rests in the hands of its people who can build upon the efforts of AMISOM," he said.
The Somali government has waged a prolonged war with the al Qaeda linked al Shabab, who have officially been in operation for less than a decade.
Meanwhile, the American government has set a reward of $3 million for information on the whereabouts of three top al Shabab operatives; Abdikadir Mohamed Abdikadir, Jafar and Yasin Kilwe.
Photo by Stuart Price/AU-UN IST/AFP: AMISOM officers tour parts of the Hiran region in 2012.