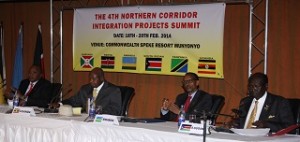 Leaders from the East African region will soon initiate the Central Corridor Infrastructural Project, which will include Burundi and Tanzania, reports indicate.
According to reports, the Northern and Central infrastructural corridors will incorporate every member state of the EAC.
Officials say the main goal behind the projects is to decrease delays in the movement of people and goods across the East African region. The East African leaders discussed the impending launch during the fourth Northern Infrastructural Summit, which took place in Kampala from 18th-20th February last week.
During this Summit, Kenya's President, Uhuru Kenyatta, highlighted the need to accelerate the Central corridor with the crucial goal of linking every EAC member country. The Kenyan President further stated that the upcoming central corridor would link power initiatives and waterways in the region.
Rwanda's President, Paul Kagame, expressed his pleasure during his participation at this summit.
He further stated that this meeting was a significant demonstration of the dedication to the objectives set last year in Uganda. Last year, the East African leaders met and resolved to collaborate on initiatives necessary to advance East Africa's development, reports indicate.
According to reports, the East African countries have held several discussions on integration and infrastructure issues. As a result, Kenya, Rwanda, and Uganda have prioritized the expansion of the Northern Corridor, which is said to be the most efficient and affordable transport route.
Analysts say a lot of progress has been made in the elimination of non-tariff barriers to permit free movement of people and goods since the first infrastructural conference last year.
According to the EAC scorecard, launched last week in Kigali, Kenya, Uganda, and Rwanda have made progress in ensuring the free movement of services, capital, and goods in the East African region. However, the scorecard indicated that the five states still have limitations on inward investment from other East African Community members.
Kenya's President also said that stability and peace would improve in the region due to the integration. Analysts also predict that people will prosper due to the fast social economic growth. On a similar note, observers state that the East African leaders could transform the East African region into a financial powerhouse in the continent and in the world through combined efforts.
During the fourth summit, Rwanda's President, Kagame, encouraged member states to speed up the implementation of various elements of the Northern Corridor projects headed by their nations.
Rwanda's leader also added that Kenya, Rwanda, and Uganda would have a joint pavilion during the global tourism fair that is expected to take place next month in Berlin. The host of the summit, President Museveni, urged the leaders to engage in activities that enhanced the financial well-being of the East African region.
He further discouraged partisan interests, which tend to slow down the process of regional integration.
Meanwhile, analysts maintain that the projects will serve as a catalyst for development in the East African region.
Photo: kbc.co.ke