Torrential Rain Kills over 100 in Bujumbura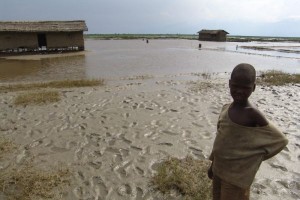 At least 100 people have been reported dead, close to 90 injured and hundreds of homes destroyed after ten hours of torrential rainfall in the Burundian capital, Bujumbura, on Sunday night.
Reports indicate massive flooding and landslides led to the dislodgement of power cables and the destruction of many roads in Bujumbura and some provinces around it.
Local police officials, who have noted that this is the largest death toll ever recorded from a natural disaster in Bujumbura, say many more people have been displaced by the floods as their mud brick houses were washed away.
Several individuals have relayed their horrific experiences in the middle of the chaotic flooding to reporters.
Red Cross officials say most of the victims of the disaster were women and children.
As families began burying their deceased relatives on Monday, reports emerged that mortuaries in the capital say there is not enough space to store the scores of bodies being delivered.
Officials have since noted that the death toll is likely to increase as the extent of the damage is assessed in many parts of the capital, particularly the north – where the flood is believed to have had the most damaging effect.
Meanwhile, Public Security Minister, Gabriel Nizigama, who toured some parts of the capital on Monday, promised to support the victims of the disaster.
According to him, the government would provide aid to people who have lost their homes, while making preparations to provide them with new homes. He also noted that the government would cover the cost of burying the casualties of the flood.
Pundits have accused the government of not making plans to prevent the annual destruction due to torrential rains in Bujumbura, which is reportedly located on a flood prone plain.
Photo by Stephanie Savariaud: The scene of annual flooding in the outskirts of Bujumbura in 2007.