Iran Favors Deeper Ties with Kenya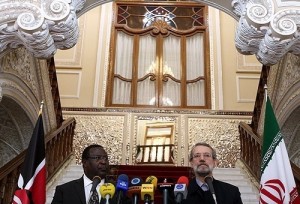 The growth in trade volume between Iran and Kenya has led to an increased interest from the former for further collaboration between both nations, according to reports.
Experts also revealed that Kenya is considered a "key" African country, and a gateway for entering the east African market.
Kenya's remarkable progress in the export industry has earned the east African nation the enviable title of having the largest economy in the region.
Ali Larijani, Speaker of the Iranian Parliament, who held a meeting with Kenyan Senate Speaker Ekwee Ethuro in Tehran on Sunday, said Tehran and Nairobi share similar views on key issues in the African continent.
Larijani also noted that both nations had a similar approach to development, adding that Iran is hoping improve cooperation in oil, mining, agriculture and other sectors with Kenyan.
"Kenya has good capabilities in the mining and agricultural sectors and we are interested in boosting our cooperation with Kenya in the form of joint investment," Larijani said during the meeting.
Several Kenyan pundits have expressed hopes that the nation will benefit from Iran's experiences in the energy sector, especially in the oil and gas industry.
After the visit of the Kenyan delegate, Iran's Foreign Minister told reporters "we notice both parliaments' support for expansion of comprehensive relations through exchanging parliamentary delegations, convening of regular sessions of friendship groups, and joint economic commissions,"
On Behalf of Kenya, the senate speaker revealed Kenya's effort and challenges in restoring peace and stability to the region. Noting that Kenya further needs Iran's cooperation in promoting peace and stability in the region. Extremism and terrorism have been underlined as the two major issues Kenyan authorities are struggling to  deal with currently.
PHOTO:Iran Majlis Speaker Ali Larijani and Speaker of the Kenya Senate Ekwee David Ethuro attend a joint press conference in Tehran on January 12, 2014.