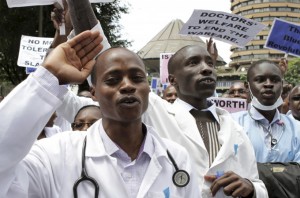 Less than a month after calling off a much publicized strike, nurses in Kenya are threatening to take action once again if County authorities do not settle their unpaid salaries by Friday, January 10th, 2014.
The nurses, represented by the Kenyan National Union of Nurses (KNUN), say several of the issues that inspired their strike in December last year remains unresolved, according to a report by Capital FM.
Seth Panyako, General Secretary of the union said "The Ministry of Health together with the Treasury should not transfer the payroll, [and] personnel emoluments [of health workers] to the County Government in the February supplementary budget."
According to Mr. Panyako, several structures need to be put in place before the devolution of medical facilities to County authorities can be completed successfully.
"We ask the Public Service Commission to reign in this confusion and bring sanity to the health sector by discharging its constitutional mandate of protecting the health workers and the public."
Mr. Panyako said although several nurses had not received their salaries for the last two months of 2013, many of them were being dismissed and transferred.
"Some Counties are even asking the health workers to re-apply for their positions even after working for many years in their stations," he noted.
Adding that according to the County Government Act, it is up to the government to pay health workers during the transition period.
Health workers in state-owned facilities took to the streets to protest against the devolution of health facilities to County authorities last month.
At least 8 babies are reported to have died as a result of the two-week strike, which was called off close to the end of the year.
Despite instructing its members to resume work, the Kenyan National Union of Nurses had expressed dis-satisfaction with the final agreement between the representatives of Kenya's health workers and the government.
Speaking after the strike had been called off last year, Mr. Panyako noted that the fundamental requests of his union remained unresolved.
The Kenyan National Union of Nurses had demanded that "the government implements the immediate registration of the Kenya Union of Nurses, the employment of all nurses on contracts, the replacement of retiring or resigning nurses, the continuous employment of all qualifying nurses and the commitment to improve medical equipment and supplies in public health facilities."
The union also called for " the establishment of the Health Service Commission in the constitution, setup of the Kenya National Ambulance Services, training of health personnel, availability and functionality of diagnostic equipment, management in public health institutions and the strengthening of human resource management in the ministries."
In addition, the union had demanded an improvement to the terms of employment for nurses and the finalization of a collective bargaining agreement.
Meanwhile, the Kenyan National Union of Nurses have called on the government to adhere to the guidelines for the transfer of services to County authorities — which demands a three-year window for the process to be completed.
Photo: A section of health workers protest in Kenya in 2012 in a bid to get the government to increase their salaries/Reuters