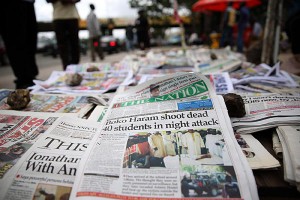 Christians in Nigeria are living under a perpetual threat with the strength of Islamic extremist group Boko Haram reportedly growing.
This anti-Christian organization, whose main hide-outs are in the northern part of Nigeria, have posed an almost palpable threat in the country since its establishment in 2001.
Nigeria's military reported on Thursday that about 38 terrorists, suspected to be members of Boko Haram, were killed during operations in the northeastern region of the country.
Colonel Mohammed Dole of the Nigerian army told reporters that the operation is believed to have successfully stopped Boko Haram from conducting planned terror attacks.
"On Thursday 9 January 2014, the insurgents attempted to attack Damboa, but due to timely information and gallantry displayed by the troops, the attack was repelled and [the military] inflicted heavy casualty on the terrorists," Dole said.
Besides the 38 fighters who are reported to have been killed, many others are said to have been injured in the clash.
Boko Haram, which translates as "western education is sinful", seeks to establish a "pure" Islamic state ruled by sharia law, putting a stop to what it deems as negative influences of "westernization".
The group is known for attacking Christians and government targets, bombing churches, and kidnapping western tourists. Between 2001 and 2013, Boko Haram is said to have been responsible for nearly 10,000 deaths. It is believed that the organization is affiliated with al-Qaeda and other terrorist groups around the world.
Last week , Bishop Hyacinth Egbebo , the administrator of the Apostolic Vicariate of Bomadi, in Nigeria's Niger Delta, noted in an interview that "If Boko Haram succeeds [in taking over Nigeria], the rest of Africa might easily fall prey to them. That would be an unimaginable humanitarian disaster."
Nigeria is one of the most populous countries in Africa. Christians account for about 50 percent of the nation's total population with the majority of them residing in the south. On the other hand, Muslims account for about 45 percent of the total population of Nigeria, and they are largely based in the north.
The influence of Boko Haram has also been reported in northern Cameroon and Niger, where they are also said to have bases. The kidnapping of French families and a priest in Cameroon last year led many observers to highlight the vulnerability of Cameroon to the threat of Islamic extremism.
Fearing the Islamists' growing influence, France has for the first time since Cameroon's independence issued a red alert travel warning, declaring certain parts of the country as "no-go zones".
Meanwhile, several media houses have also reported on the spread of Islamic extremism in east Africa, especially Kenya and Tanzania–particularly from the northeastern and western part of the continent.
In March 2013, a Tanzanian priest is reported to have been murdered by Muslim youth. Also last year, two Somali pastors were killed in Kenya by armed men believed to be sympathizers of al Shabaab. Shortly after, a Catholic priest in Zanzibar was killed by two Muslim extremists.
These reports have consequently led many pundits to call the appropriate security agencies to action, noting that Islamic extremism may be spreading rapidly, although unnoticed, in eastern Africa.
Photo: At a newspaper stand in Nigeria, a headline relating to a Boko Haram attack is displayed/Reuters