African Migrants in Israel Stage Protests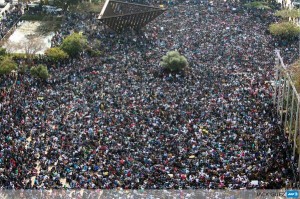 Thousands of African migrants took to the streets of Tel Aviv on Sunday to protest against the Israeli government's detention and repatriation of illegal immigrants.
Protests were also reported in Eilat, a renowned tourist destination in southern Israel with a large percentage of African migrants.
Over 300 people are reported to have been taken into custody since the exercise, which is aimed at eliminating all illegal migrants in the country, began about two weeks ago.
At the protest in Tel Aviv yesterday, which began at Levinsky Park before the group marched to Rabin Square, many chanted "Yes to freedom, no to jail," "we are refugees, no more prison."
The protesters are calling for Israel's new law, which permits authorities to keep illegal immigrants in custody for up to 12 months, to be overturned. They are also demanding that all African immigrants in the Holot detention center are released and that the facility is closed.
The Holot detention center has been at the heart of the recent protests since they began last month. While Israeli authorities claim the center is open (i.e. residents can enter and leave as they please), the protesters say residents of the center are subjected to tight supervision, including a roll call three times daily.
Several illegal immigrants had been transferred to the facility after the amendment of the country's anti-infiltration law early in December. However, many are reported to have escaped the facility, which is located by the Negev desert, southern Israel.
Every year hundreds of African immigrants–mostly Eritreans and Sudanese–make their way to Israel by illegal means. In 2012, the Israeli government erected a security fence along its border with Egypt to curb this influx of illegal migrants.
While a majority of the estimated 50,000 Africans in Israel are reported to be genuine refugees fleeing instability and political persecution in their home countries, Israeli authorities fear many are 'economic migrants' masking as asylum seekers.
According to the protesters, currently there is no way out but deportation for anyone without legal status.
"All the doors have closed. People have nowhere to go, nothing to do. The immigration police are working all the time, catching people. You go to the Interior Ministry to get a visa, there are long lines, in the end you don't get a visa. You're on the street, they catch you without a visa – you go to jail. A large portion of the people are in jail now. We want to say that we deserve to live, we deserve human rights." Konda, a Sudanese immigrant in Israel and one of the leaders of the protest is reported to have said.
Although Israeli law permits refugees to work and receive benefits from the state, the protesters claim frequent roll calls in the Holot detention facility makes it impossible to keep a job.
In a bid to pressurize Israeli authorities, the protesters have declared a strike from Sunday 5th January, to Tuesday 8th, January. In a recent statement, the protesters noted that the strike is not meant to hurt their employers but "to clarify to Israelis society: We fled here because of the danger to our lives in our countries of origin. We are seeking political asylum. Like every person, we also want to earn an income so we can live in dignity – but work is not the reason we came to Israel."
Meanwhile, the United Nations High Commissioner for Refugees (UNHCR) has criticized the Israeli government's mistreatment of illegal immigrants. In a recent statement, the UNHCR noted that many of the migrants should be properly described as "asylum seekers" rather than "infiltrators." The statement also revealed that the Israeli government's policy towards illegal migrants is not in line with the 1951 treaty on refugees.
Last year, Israeli authorities sounded an alarm against the rising number of African immigrants in cities like Tel Aviv and Eilat, linking it with the increasing insecurity of these cities. It is believed that as they are unable to find jobs, many African migrants turn to robbery and other illegal practices to earn a living.
African migrants in Israel had protested last year to pressurize the government to grant their asylum requests. According to reports, less than 1% of the asylum requests to the Israeli government from Africa is granted.
The protesters are due to meet again today in Levinsky Park to plot on the next phase of their agitation. Reports suggest that today the protesters plan to deliver letters to the embassies of various nations in Tel Aviv in a bid to gather international support for their movement.
Photo: An aerial view of the protests yesterday. (AFP)