Somali Security Forces Conduct Massive Crackdown in Baladweyne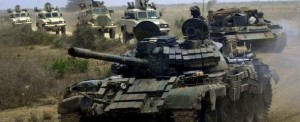 Somali troops and AMISOM forces have performed a massive operation in Baladweyne city in the wake of increasing security threats in the area.
The security operation occurred at Howl-wadaag and Koshin neighborhoods in Baladweyne, south-central Somalia.
Ali Dhuux, head of the police force in Baladweyne, told the BBC that numerous people were detained during the operation, which was intended to reinforce the town's security.
Ali Dhuux also claimed most of the detainees are suspected to have links with Al-Shabaab. He vowed that the Baladweyne city police force will continues to hunt down criminals in the area.
Similar operations took place in the same city in August and September following the assassination of two renowned Somali elders, according to reports.
The recent crackdown has since paralyzed the movement of people in the small city. According to reports, many people opted to stay at home–reportedly driven by fear of arbitrary arrests.
This massive operation came following the death of Mo'alin Hasan in the city on Saturday night. Mo'alin, Baladweyne's deputy commissioner, was recently shot by unknown gunmen.
Somalia's security officials reported that they confiscated improvised explosive devices, ammunition, and other weapons from the homes of some suspects during the operation. Security officials have declared that the crackdown would continue until the bombings and coordinated killings are brought to an end.
While residents of Baladweyne have to contend with rising insecurity and subsequent crackdowns, many believe their security has somewhat improved following the deployment of AMISOM forces to the area.
Sometime in May this year, the Prime Minister of Somalia, Abdi Farah Shirdon, said security had generally improved after AMISOM trained 500 security forces to handle internal security matters.
AMISOM is a peacekeeping mission with a mandate to support transitional legislative structures, execute a security plan in the region, and train the region's security forces among other responsibilities. The peacekeepers are reported to have encountered several difficulties in their attempts to liberate the whole country. However, AMISOM have recorded several victories against the terrorists in the past two years.
But with Al Shabaab still controlling vast areas of central Somalia, security analysts say AMISOM needs to increase its efforts in order to liberate the whole country.
Several security experts have noted that one of the greatest challenges for the country is setting up a strong national army with the capacity to take over liberated regions from AMISOM and effectively maintain security.
Photo: AMISOM forces in Somalia. (raadraacnews.com)