Mogadishu's Aden Abdulle International Airport Records a 50% Revenue Increase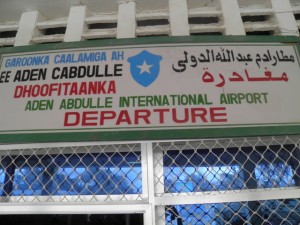 Somalia's Aden Abdulle International Airport has seen a tremendous increase of over 50% in its revenues since Turkish firm Favori LLC took over operations three months ago.
Ahmet Cetin, President of Favori recently confirmed that the company had recorded a significant increase in its revenue and may be in the process of bringing back to life Somalia's lone and struggling airport.
The airport, which experienced flight disruptions and damages to its infrastructure due to the civil war in Somalia, has struggled to operate with the same capacity as its competitor's in the region.
Turkish-owned Favori LLC announced in a press release that it had provided $1.1 million direct revenue to the Somali government since it officially took over the management of the airport from SKA Air and Logistics, a Dubai based aviation outfit, on September 15th, 2013.
"This represents more than 50% income for the government compared to the closest comparable period in the past, "Ahmet Cetin revealed.
Favori LLC, a ground handling and terminal management firm, is responsible for managing the entire Aden Abdulle Airport. The company's duties includes ground handling, cargo processing, passenger services, security and general airport maintenance.
Favori has stressed its commitment to rebuilding the airport into a state-of-the-art facility to meet international standards, serve customers better and increase its net revenue.
The company recently unveiled some reconstruction plans for the airport, which includes reconstructing the airport's main terminal, expanding the aircraft parking area and building a new taxiway to increase the overall capacity of the airport. Favori also revealed plans to construct a modern control tower to monitor the airspace.
" The new terminal will further increase the revenue of the airport by another 40% and Favori is committed to making more direct investment and promoting local commerce," Ahmet Cetin noted.
Aden Abdulle International Airport (or Mogadishu International Airport) was established in 1928 and was a novelty in the region. It was named after the first president of Somalia Aden Abdullah Osman Daar, who served from 1960 to 1967. Through the years of Somalia's decline the airport's importance and significance has increased, serving as a prized link to the outside world. The airport is regarded as one of the safest routes to Somalia.
Earlier in the year, the Somali government cancelled a 10 year contract it signed in 2010 with SKA Air and Logistics, after accusing the firm of falling short of its developmental mandate to rebuild the airport.
The government then signed a twenty year contract with Favori LLC–reportedly partly due to Turkey's broader participation in the Somalia's reconstruction efforts. In December 2011, the Turkish government revealed plans to modernize the airport as a way to assist Somalia develop from its state of underdevelopment caused by decades of civil war.
"Our aim is to streamline MIA (Mogadishu International Airport) operations and bring it to international standards in order to set a bridge between all international communities and Mogadishu. This will create an opportunity to enhance and support social and economical improvement for our brother country," Ahmet Cetin said.
The airport is reported to currently have 42 clients. Under Favori 's management, the firm has seen an increase of about one client each week.
For many years, the Aden Abdulle Airport was plagued with corruption, mismanagement and attacks from terrorists, who considered it a soft target when attempting to coerce authorities. But the airport seems to be experiencing a turn-around.
Earlier in the week, Somalia's School of Aviation was re-launched after 20 years in a defunct state.
Several pundits have hailed these recent developments as hinting at a rapid re-development of Somalia's aviation sector.
Photo: Aden Abdulle International Airport departure terminal sign. [Baledweyn.com]