Hundreds Left Homeless After Authorities Demolish Slum in Addis Ababa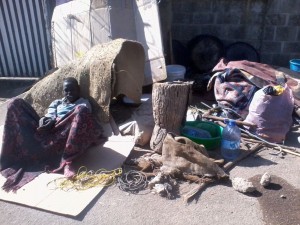 Sitting amongst the rubble that used to be his home. His old, small eyes are locked in the distance, but as soon as anyone comes near him, he looks up with a stare on his weathered face that belies his hope of solving his eminent problem, homelessness.
Ato Ayalew Mitiku*, who is in the twilight of his 60's, used to have a home–however shabby and small it was. He and his family used to live in the area behind Bole MedhaneAlem Church in Addis Ababa town, a place called Yechereqaw Kuasmeda.
There, around 2,000 people were estimated to have lived in one of the worst slum areas in Addis Ababa in small, shanty, illegally constructed houses. All the residents of that place form part of the lowest income earning section of Addis Ababa's society.
Four days ago, according to Sisay Kassie*, one of the two young men who showed reporters around, lots of police men surrounded the area, telling them to evacuate their homes immediately.
"They did not even [allow] us enough time for [the] evacuation" Sisay told me, with sorrow in his eyes and extreme fatigue on his face. "They immediately started to plow down all the houses with bulldozers for no consideration. All the houses turned into dust and rubble right there in front of our eyes. The place we used to call home was no more, a barren land in its place."
I enquired if they were given prior notice of the demolition. Their heartfelt and emotional answer was "They had told us that this place was going to be removed and plowed down three or four months ago. But there was no legal notice. It was just word of the mouth. And we were always asking for places to be given to us. And the people at the concerned offices always said that at one time one of the officials wasn't around to decide or at another time the map for the place was not prepared. And now they are telling us to wait for our answers living outside. What kind of justice is that? There is no where we can apply to to get justice. The Sub city administration will not do anything for us and we have been trying to ask the Red Cross for help but its all bureaucratic."
Many people are scared that  kids may be buried under the rubble, since the demolition exercise was forcefully and hurriedly done. I met some who claimed to have been bruised and hurt in the debacle–although the injuries are minor.
In front of the demolished houses are villas and apartments that are so beautifully made with nicely kept gardens watered constantly by the gardeners hired for that sole purpose.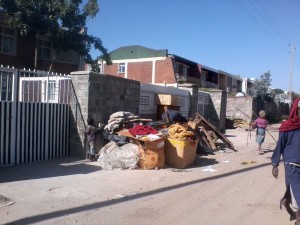 Ato Ayalew and Sisay told me that the place in front of where they used to live was given to the Ethiopian Sports Commission who are building an international-standard stadium. But it wasn't even near them, they claim, "they could have given us more time, they say. The place we were occupying would have been a road, so they could have given us time until the stadium was finished. Now we have nowhere to go…with our economical status, where would we go? what are we going to do?"
As I left the place, that was my question as well.
Attempts to contact the relevant governmental bodies has been to no avail.