Kenya's Amnesty International Director Shot and Seriously Injured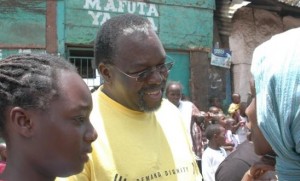 Kenya's Amnesty International country director, Justus Nyang'aya was shot and seriously injured in his residence in Rongai, Nairobi, on Wednesday morning and is currently recovering in a hospital, Amnesty International revealed on Friday.
The incident is currently under police investigation. A colleague at Amnesty International Kenya said gunmen raided Mr Nyang'aya's home and stole cash and valuables.
Colm Ó Cuanacháin, Senior Director of Movement Building at Amnesty International said "Everyone at Amnesty International sends their best wishes to Justus and his family. We are all extremely thankful that he is now out of danger and we extend our very best wishes for a speedy recovery."
Nairobi county commander Benson Kibue also confirmed that Mr Nyang'aya is admitted to a city hospital in a stable condition after he was shot three times, including on the chest.
Gunmen, police say, raided his house and robbed the family of cash and other valuables before shooting him. They then escaped, and the police are yet to make any arrests. "We are yet to establish the motive of the shooting but are investigating," Mr Kibue said.
A witness, Mr Kibet Chebii, said he was returning from visiting the victim's neighbor in Acacia estate Kajiado County, when he heard gunshots and alerted the police. Police rushed to the scene and also recovered two bullet heads and a spent cartridge of 9mm calibre.
Just two days ago, Mr Nyang'aya attended a function at the Law Society of Kenya offices where he awarded lawyers who offer pro bono services in Nairobi, according to Diaspora Messenger News Media, the community center for Kenyans in Diaspora.
The lawyers awarded included Elisha Ongoya, a constitutional lawyer, Tony Mulekyo and John Chigiti, who represented hundreds of Muthurwa residents facing eviction and also acted for refugees.
Last Wednesday, in the same Ongata Rongai area, gunmen also attacked the Turkana Women County representative Joyce Akai Emanikor at the gate of her residence. She was however not injured nor was anything stolen from her.
Ms Emanikor was being driven to her residence in Villa estate when she was confronted by four men, one armed with a pistol. The gang first attacked the guard at the gate but her bodyguard fired five rounds from his revolver before the gang escaped.
Elsewhere, Mr Kibue also said that a suspected mugger was early Wednesday morning shot dead along Kirinyaga Road. His accomplices however escaped on foot.