UN to Resettle Thousands of Refugees in Ethiopia to 3rd Country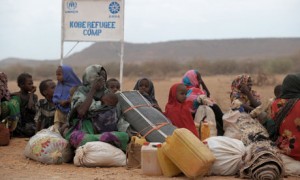 The United Nations High Commission for Refugees (UNHCR) have revealed that plans are underway to resettle over 3,000 refugees in Ethiopia under the UNHCR's resettlement program, according to a report by Sudan Tribune.
Over the past 2 years, Ethiopian officials say the number of refugees entering the country has more than doubled. According to the UNCHR, there are about 400,000 refugees currently living in Ethiopia.
The UNHCR say this year a record number of requests for resettlement have been made at refugee camps in Tongo, Bokolmanyo and Barahle in Ethiopia. According to reports, the requests—about 3,800—exceeds the UNHCR's 2013 resettlement target by over 20%. In 2009, the UNHCR recorded its highest number of total resettlement requests at 128,000.
The third country resettlement program was launched in 2006 by the United Nations refugee agency in coalition with the International Organization for Migration (IOM) and several governments including the Ethiopian government. The scheme was specifically developed to assist refugees who, for some reasons, cannot return to their home countries. Thousands of political prisoners and other refugees are reported to have been resettled to countries in North America and Europe through this initiative.
Despite the reportedly large number of Ethiopians who head to Arabia, Asia and Europe yearly in search of better employment opportunities, Ethiopia is seen as a safe haven and a land of opportunities by many. Thousands of people, fleeing persecution or violence, are reported to make their way to Ethiopia from surrounding nations yearly. This has forced Ethiopian authorities to maintain refugee camps across the nation's borders to deal with refugees from countries such as Eritrea, Democratic Republic of Congo, Somalia, Sudan, South Sudan, Djibouti, Burundi, Rwanda, Uganda and even Arabian countries such as Yemen and Palestine.
UNHCR officials note that it is unlikely all the 3,800 applicants will be resettled this year. Meanwhile, the agency has vowed to continue supporting refugees in Ethiopia through livelihood projects and other economically and socially empowering initiatives.
Currently, refugees in Ethiopia receive allowance from the Ethiopian Orthodox Church Development and Inter Church Aid Commission for Refugee and Returnee Affairs. However, many complain the sum in insufficient, but without education and legal status it is difficult to land a proper job.
Last month the French government pledged to donate about £ 500,000 to the UNHCR to assist Eritrean refugees in Ethiopia. Eritreans are reported to make up a majority of the refugees in neighboring Ethiopia. Many Eritrean refugees report that they migrated from their homeland to escape repression and military service.
The European Union has also vowed to release more funds and create conditions to entice European nations to accept more refugees under the third country resettlement program. Currently, the United States of America is reported to take in the largest amount of refugees yearly.
Photo: Refugees outside the Kobe camp at Dolo Ado, Ethiopia. [Getty Images/Roberto Schmidt]