Ethiopia, Sudan and Egypt Make Progress on GERD Talks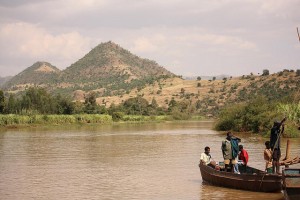 Experts and ministers of water resources from Ethiopia, Sudan and Egypt yesterday concluded a two-day meeting in Khartoum over the contentious Grand Ethiopian Renaissance Dam (GERD).
The meeting, which has been described as successful, was convened for the three nations to assess the recommendations put forth by a panel of experts convened in June to assess the impact of the dam on the Nile and the environment. The ministers were also expected to create a committee to enforce the recommendation.
Last month's meeting in Khartoum between the minister is reported to have been called off after the delegates disagreed on the composition of the committee to enforce the recommendations. Meanwhile, the Egyptian delegates have also called for more studies to be done into the dam by "neutral" experts, saying the present study is not detailed enough.
Following the meeting yesterday, all three ministers have expressed optimism that an agreement can be reached.
"We have addressed a significant part of the issues on the follow-up of the implementation of the recommendation of the international panel of experts," Muatta Musa Abdallah Salim, the Minister of Water Resources and Electricity of Sudan is reported to have remarked.
Ethiopia's minister of water resources Alemayehu Tegenu noted that almost all the issues have been resolved. According to Business Week, the Ethiopian Ministry of Water and Energy disclosed that the ministers agreed to create a committee within one month to oversee a regional hydrological study of the GERD.
The Egyptian Ministry of Water and Irrigation revealed that certain "sticking points" still exist, which need to be discussed. The ministers are scheduled to continue their discussions on January 4th – 5th, 2014.
Egyptian authorities had raised issue with the construction of the dam, saying it violates the 1929 and 1959 agreement between the Nile tributary nations, which entitles Egypt to the largest share of the water.
However, Ethiopian authorities have cited the Entebbe agreement signed by several of the Nile tributary nations in 2010 (excluding Egypt and Sudan), which redistributes the Nile's water.
Despite claims from Egyptian authorities that the dam will drastically reduce water supply to the arid land-locked nation, Ethiopian authorities insist these concerns are overblown.
Photo: The Blue Nile.