Eritrea Ousted from the CECAFA Cup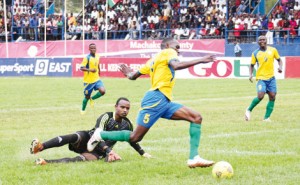 Eritrea has been eliminated from the 2013 CECAFA Senior Challenge Cup after losing 1-0 to Rwanda in a Group C match held on Thursday at the Kenyatta stadium.
Both teams were facing elimination after losing their first two opening matches and therefore fought hard during the first half of the game which ended 0-0. Rwanda's Amavubi stars intensified their efforts in the second half with Michel Ndahinduka scoring the only goal in 77th minute following a failed save by Eritren goalkeeper Abdulahi Abdurahman.
Amavubi's Hussein Mugabo and Andrew Butera also attempted to score during the match, but to no avail. Butera made his attempt from outside the box shortly before half-time, but the goal keeper was able to make a save. Abduraham, was voted the man of the match by the sponsors, GOtv.
Eritrea's Serak Beyne made a similar attempt, also in the first half, but missed the target.
Eritrea has not won a single game although they have played a total of three matches against Uganda, Sudan and most recently, Rwanda. The Red Sea Camels now join four other teams who have been eliminated from the challenge.
Rwanda on the other hand joins eight other winning teams in the quarter finals the GOtv Cecafa Senior Challenge Cup. The team's is now set to play Kenya's Harambee Stars on Saturday in the Coastal town of Mombasa.
Photo: Rwanda's Kagere Meddie (right) and Eritrean goalkeeper Abdulahi Abdurahman during the match. [The Standard]