Puntland Officials Say Cyclone's Death Toll May Reach 300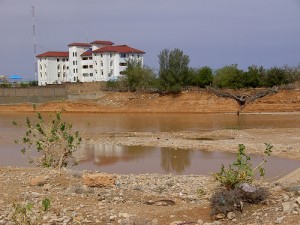 The number of people killed by a tropical cyclone and heavy flooding in Somalia's Puntland region over the weekend may be over 300, according to officials.
The death toll had been put at about 100 earlier, but Puntland's Interior Minister is quoted saying "the death toll may reach 300 because many people are still missing."
The government of the semi-autonomous region has since declared a state of emergency and appealed to the international community for assistance in dealing with the aftermath of what it has described as a "disaster."
The cyclone and flooding, which followed days of heavy raining, is reported to have been most severe is selected regions across Puntland, including Eyl, Cape Guardufui, Dangaruyo, and the capital Garowe.
According to the United Nations Food and Agriculture Organization (FAO), it doesn't usually rain in the "semi-arid" Puntland, "but when it does, to an extent we have seen…the impact is devastating."
Puntland is reported to get most of its rainfall around April and June, therefore the recent downpour has been described as both "unexpected" and "unusual." Although the cyclone has subsided, heavy rains are still expected in the coming days.
Quantifying the extent of the damage, the Puntland government in a statement today said "countless" livestock are missing and "entire villages, homes, buildings and boats" destroyed.
According to the FAO, the impact of this cyclone is especially severe as the people of the region rely on fishing, agriculture and herding livestock for their income.
The government says delivering much needed medical care and supplies to communities across Puntland has been virtually impossible as many routes are flooded and remain inaccessible.
Meanwhile, the Prime Minister of Somalia Adbi Farah Shirdon has pledged to donate $1 million to the relief efforts in Puntland. Relaying his condolences to the people, the PM said he shares their pain.
Puntland was officially created in 1998 following protracted war, drought and famine in Somalia. The semi-autonomous state proposes the adoption of a federal system of governmenance in Somalia. However, in August this year, the government of Puntland lashed against the Somali government, accusing it of non co-operation.
Source: AFP, Bloomberg
Photo Source: Flickr