Kenya: soldiers face charges over Westgate mall looting accusations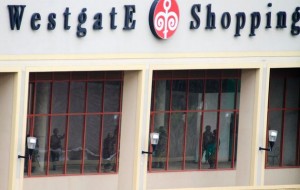 Kenya's military chief has confirmed that two Kenyan Defence Force soldiers have been fired and are in custody pending their appearance in court to face charges for allegedly looting shops during the mission to rescue hostages at the Westgate mall last month.
According to reports, Kenya's military chief Julius Karangi, in a news conference today, said two soldiers were found with cameras and mobile phones from the mall. The two soldiers are said to have been fired and are due to appear in court, while one other soldier is still under investigation for his involvement in the crime.
KDF soldiers had been accused of looting shops in the first few weeks after the attack when shop owners, who returned to inspect their properties in the Westgate complex, complained of missing items. However, these accusations grew in significance after the release of a CCTV footage of the attack in the past few weeks. The video, which shows KDF soldiers attempting to open drawers, removing items off shelves and walking around with shopping bags, has triggered a wave of controversy and criticisms.
At a meeting with the Kenyan parliament recently, the Kenyan military chief had refuted claims that soldiers looted shops during the mission. In his statement to the media today he insists that there is no evidence of collective looting by KDF soldiers.
Meanwhile, Kenya's Police Crimes Investigation Department head, Ndegwa Muhoro, has revealed that a call was placed from the Westgate mall to Norway during the attack.
This may confirm earlier suspicions that a 23 year old Norway-Somali citizen, Hassan Abdi Dhuhulow, was involved in the attack. Authorities are still uncertain of the extent of the suspect's involvement in the attack or his current whereabouts.
According to the authorities, all four Al Shabab militants who carried out the attack last month were killed. The Police CID boss says Interpol is helping Kenyan authorities identify the bodies of the four suspects and uncover the details of the attack.
Besides the four bodies yet to be identified, Kenyan authorities are reported to have arrested five suspects for their involvement in the September 21st attack. The Police CID boss said the trial of the five suspects, due yesterday, was postponed to allow investigators study text exchanges between the terrorists in the days leading to the attack.
The attack on the Westgate mall was the bloodiest on Kenyan soil since the bombing of a U.S embassy building in Nairobi in 1998. Al Shabab, who were behind the 1998 attack, have also claimed responsibility for the attack on the Westgate mall.
Photo by Noor Khamis/ Reuters