AU demands ICC trial of Kenyatta be suspended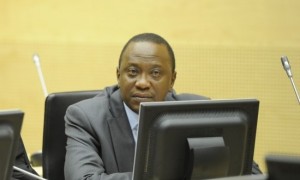 African leaders at the African Union summit in Addis Ababa have called for the International Criminal Court's (ICC) trial of Kenya's President Uhuru Kenyatta to be delayed.
Failing this, the continent's leading body decided it is acceptable for President Kenyatta to absent himself from the proceeding which is scheduled to begin on November 12th.
President Kenyatta had earlier requested the court grant him permission to attend the proceeding via video link, but nothing came of the request.
Under the laws of Kenya, it is unacceptable for the President and his deputy to be out of the country at the same time. But according to the ICC's schedule, both men are expected to be at the Hague at the same time.
Explaining the importance of the AU's directive to the ICC and UN Security Council, AU Commission Chairperson Nkosazana Dlamini-Zuma said "We should not allow Kenya slide back [to the destabilised state it was in 2007 following widespread violence after disputed elections] for any reason and the AU is keen to see stability and an improved security situation in Kenya. This requires the undivided attention of its leadership."
There have been concerns about the effect the absence of both leaders will have on the stability of Kenya. These questions have taken on extra importance in light of last month's attack on the Westgate mall and other terrorists attacks in Nairobi in the past few weeks.
Earlier in the week, President Kenyatta made it unequivocally clear that he would not shirk his national responsibilities in order to answer to the ICC. There are reports that Kenyatta's legal team have also requested the court halt the proceeding against him as there are concerns he will not get a fair trial.
There had been widespread concerns that this gathering, which is focused on the continent's ailing relationship with the international court, will evolve into a platform to generate support for a mass pull out of the ICC. However, this has failed to happen, African leaders seem to be united on one stand and the AU seems to be determined to take charge of its affairs.
This request by the AU is the culmination of many months of complaints by numerous African leaders and individuals about the ICC's questionable handling of African cases.