ICC Urges the U.S. to Arrest President Bashir of Sudan during the U.N. General Assembly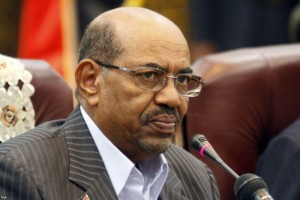 The International Criminal Court (ICC) has asked the United States to arrest Sudanese President Omar al-Bashir if he attends the U.N. General Assembly in New York, next week.
This comes after it was reported that the Sudanese President is seeking a U.S. Visa so as to travel to the U.N meeting. There are several international arrest warrants against Bashir for war crimes in Darfur.
Washington had earlier termed Bashir's visa request as deplorable considering that the leader had been indicted by the ICC. They however did not indicate if the Visa would be issued.
Since his indictement, Bashir has restricted his travel to friendly African and Arab countries. The United States is not a member of the Hague-based ICC and are therefore not legally required to detain the Sudanese leader if he enters their territory.
A trip to Washington is however still risky for Bashir since the U.S. has been in the frontline in calling for face international justice over the bloodshed in the now decade-old conflict in the western region of Darfur. The U.S. has also transferred suspects to the ICC before. For instance when Bosco Ntaganda surrendered to the U.S. embassy in Kigali, Rwanda, he was put on a plane to the Hague within no time.
The Foreigh Ministry in Sudan has however dismissed criticism from the U.S. Ambassador to the United Nations Samantha Power saying that America lacked the moral, political and legal authority to " give any lessons or recommendations respecting international law or human rights." It also pointed out that under the 1947 U.N. Headquarters Agreement which established the U.N. base in Newyork, the U.S. has an obligation to issue the visa.
Sudan has also dismissed charges by the ICC saying that they are not only exaggerated but also a Western plot. The ICC currently has two outstanding warrants for Bashir's arrest dating from 2009 and 2010 for alleged genocide, war crimes and crimes against humanity.