4G LTE high speed internet to be installed across Rwanda by August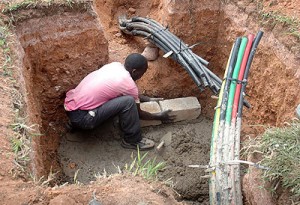 Rwandans will be able to access the internet on 4G Long Term Evolution (LTE) technology by August this year.
The Minister for Youth and Information Technology, Jean Philbert Nsengimana, who announced the news to the local media, has noted that tests are currently ongoing on the functionality of the new system.
The Rwandan government has invested greatly in information and communication technology to catalyse the nation's economic transformation.
Last year, Korea Telecom Corporation was contracted to install 4G LTE technology across the country. The South Korean company has reportedly already laid over 5,000 kilometers of the fibre-optic cable across the country.
Although the new 4G technology had been launched since October last year, reports indicate that up to 80% of the nation's population are still using 2G and 3G connections.
Korea Telecom is expected to complete the installation of the system by 2017. The company will also train Rwandans in ICT and develop the country's cloud services sector.
Despite being rated as one of the countries with the highest internet usage rates in the region, reports indicate that only a meagre percentage of the Rwandan population have reliable access to the web.
Until now, many Rwandans have reportedly had to rely on wireless networks and Universal Serial Bus (USB) broadband to access the internet. However, the installation of the 4G technology will permit (FTTH) fiber-to-the-home network connection. Internet connectivity is also expected to be more than three times faster and much more cheaper.
Mr. Nsengimana further noted that the new technology will compliment the 'Smart Kigali' initiative; which aims to avail wireless hotspots at various locations across the city. He also revealed that the authorities are working to expand the coverage of the scheme to ensure more places in the city have internet access.
Photo/The New Times